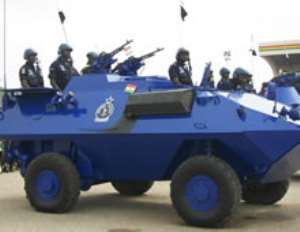 Security personnel posted to polling stations must not interfere with the voting process Patrick Timbillah, Director General of police (operations) has cautioned. Their duty at polling stations is to ensure that nobody disturbs the process.
Mr. Timbillah gave the caution when he met with security heads in the Northern Region here to commence a special exercise dubbed "Operation Peace Angel 2008" It brought together heads of the various security agencies in the region.
The objective of the exercise is to sharpen the skills of security personnel in ensuring law and order at the December 7 poll.
He advised them to keep to the rules and not indulge in acts that would cause tension.
Mr. Timbillah said to be able to exhibit a high sense of professionalism they must update their knowledge on the laws and procedures governing elections.
He said they must be circumspect in handling trouble makers in order not to create unnecessary tension, adding that they have to be firm but fair in dealing with situation to earn public confidence.
The Northern Regional Police commander, Ofosu-Mensah Gyeabour assured the security personnel that everything was being done to satisfy their needs for the poll.
He therefore warned them not to accept gifts including food from party agents as that could compromise their work.
Mr. Gyeabour asked the media to help educate the public on their civic rights to maintain law and order while political leaders must stop politicising crime by interfering with criminal cases under investigations by the police.
Security personnel cautioned against interfering with voting process.
Source: Ghanaian Times