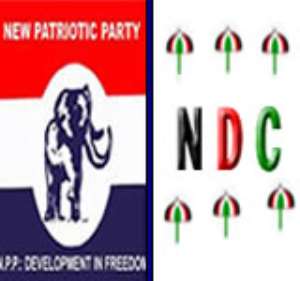 Two political parties noted for frequent clashes in the run up to the December election have disassociated themselves from violent youth groups that have been linked to them.
The ruling New Patriotic Party (NPP) and the largest opposing party, the National Democratic Congress (NDC), say they are committed to a peaceful election and would not be part of any violent activities.
A study by the Centre for Democratic Development (CDD) cited various youth groups affiliated to the NDC and NPP as being behind some of the violent clashes in some parts of the country.
Johnson Asiedu Nketiah, General Secretary of the NDC, although admitted in the northern parts of Ghana it is common to see youth centres painted with party colours, their motives, he said were not for bad intentions, but just part of their culture of association.
They usually come with weird names like 'computer ladies' among others, he noted.
"They are not mobilised for any confrontations or whatsoever, they hold meetings, they attend funerals together, and they keep fit and exercise together. At least those on the NDC side I don't see how they pose a threat to the electorate at all."
But he noted that there are some identified individuals at the forefront of creating violence; he alleged that both the Northern Regional Minister and regional security structures are aware of their operations.
Mr. Lord Commey, National Organizer of the NPP, said there is no such violent groups known to the party and explained that the party's constitution is clear on its affiliate bodies.
"We have the national youth wing and the youth wing at the national level also has constituency and polling station branches.
"After 2001 when the party won power, there were a sprung up of associations and the party came up officially to say that these things are unconstitutional."
He however noted, aside the youth wing, the party also recognize the NASARA Club and the Young Executive Forum.
Mr. Mensah, a Programme Director at CDD, said the centre in collaboration with the Coalition of Domestic Election Observers undertook the study as party of their contribution towards a peaceful election.
He said some inroads have been made in coaxing political leaders to foster peace and unity, but the problem has now shifted to the formation of keep fit clubs who are indulging in violent acts.
"The security services should intensify their activities; they should also call the keep fit clubs and talk to them to stem down some of these activities."
Meanwhile, the Ghana Police Service says it has identified some 1400 flashpoints nationwide that are likely to disturb the December 7 elections.
Security analysts however say such hotspots must include areas where there have been violent clashes or at least mild skirmishes in past national exercises, including the recent limited voter's registration exercise.
Story by Isaac Essel