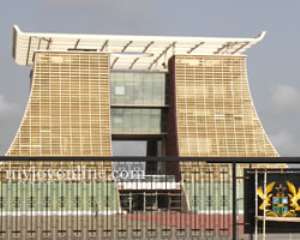 The presidential palace has been completed; baring any unforeseen circumstances, it would be commissioned on Monday November 10, 2008.
The multi-million dollar presidential complex is situated at the premises of the former Flagstaff House, which served as residence for Ghana's first president, Dr. Kwame Nkrumah.
The palace would replace the Osu Christianborg Castle as the official seat of the Government of Ghana.
Even though all is set for the commissioning, the Minority in Parliament has raised questions about the cost of the project. The palace was initially estimated to cost $36.9 million, in which the India government provided about $30 million towards its construction.
However, in July 2008, the Chief of Staff and Minister for Presidential Affairs, Mr. Kwadwo Mpiani, estimated to Parliament that the project is expected to cost over $36.9 million, but noted that the actual cost would be known after completion
The construction of the Presidential Palace faced strict opposition from some members of the public and politicians mainly from the National Democratic Congress.
According to Joy News report, Mr. Alfred Agbesi, Member of Parliament for Ashaiman and Minority Spokesman on Legal Matters, has expressed concerns about government inability to furnish Ghanaians with the total cost involved.
"I believe they have a lot to hide in terms of this Presidential Palace matter, if not, would they need us to prompt them to come and tell us…we hear that sometimes they were not paying workers on the site…we have been told by our President that people who don't have money in their pockets are lazy".
He hoped the answers would be provided on the day of commissioning.
Members of Parliament and some high level dignitaries have been served with invitation to attend the ceremony on Monday.
Story by Isaac Essel