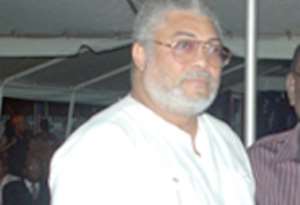 THE FORMER president of Ghana, Mr. Jerry John Rawlings has incurred the displeasure of the disabled in the Brong Ahafo Region through his unguarded statements.
Speaking to supporters of the NDC at Techiman Zongo park, Mr. Rawlings referred to Nana Akuffo Addo as a disabled hunchback and too short to become the president of Ghana.
Unknown to Mr. Rawlings, there were several hunchbacks and disabled men and women among the supporters of the NDC.  These people did not take matters lightly as some of them were seen walking away in anger.
The following morning when the voice of Rawlings was played on air in some radio stations, hell broke lose as many disabled persons called in to lambaste the former president of Ghana.
The Brong Ahafo regional president of the Advocacy of Disabled Persons of Ghana, Mr. Djan spoke angrily against the statement and called on all persons living with disability in the region to vote against the NDC.
According to Mr. Djan what Rawlings said has proved the fact that the NDC, when in power refused to pass the Disability Bill because they did not like persons living with disability.
Rawlings also told the crowd that the NPP presidential candidate was a thief and was wondering where he got money to make large bill boards and also advertise.  According to Mr. Rawlings, a vote for the NPP was a vote for slavery but a vote for the NDC was a vote for freedom.
He wondered why God should punish Ghanaians by allowing the NPP to come to power only for the people of Ghana to suffer.
The rally itself was characterized with insults and unguarded statements.  Mr. Asiedu Nketia, the general secretary of the NDC insisted that Nana Akufo-Addo was the head of seven thieves who contested the NPP presidential primaries.
He was at his effusions best as he descended on all NPP members, including the president.
Rawlings and his entourage who have been campaigning in the Brong Ahafo Region for the past five days seem not to have any message for the people.  
Wherever they went, they only insult the incumbent government and eulogize Rawlings.  None of the speakers mentioned the name of professor Mills. It looked as if it was Rawlings who was seeking votes for himself.
From Eric Bawah, Techiman