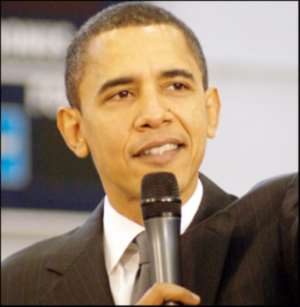 Unconfirmed reports are that U.S. President-elect, Barack Obama has, even before he is officially sworn into office, started eyeing certain key personalities, both Democrats and Republicans for political appointments.
One such personality is Democrat Rahm Emanuel who is being considered for the post of Chief of Staff in the next administration.
Emanuel who worked on former President Clinton's first presidential campaign and served as a White House Advisor to Clinton, helped lead Democrats to majority control of the White House in 2006. He was also the fourth-highest ranking member of the chamber's Democratic leadership. 
Sources close to the President-elect say Obama was also thinking about bringing on board Senators Chuck Hagel and Dick Lugar.
African American-born Barack Obama, 47, comfortably won last Tuesday's elections, amidst massive jubilation the world over, especially Africans.
He won 51 percent of the votes cast with his closest contender, John McCain polling 48 percent.
Messrs Hagel and Lugar are both Republicans; the latter being a Vietnam War Veteran and fierce critic of the Bush Administration's handling of the Iraqi war.
Hagel, from Indiana, is minority leader of the Foreign Relations Committee and worked with Obama last year to expand a programme aimed at destroying weapons of mass destruction in the former Soviet Union.
Another key personality being considered is Robert Gates, the current Defense Secretary, who would likely be added to the National Security Team.
Obama is also said to have already met with key advisers to take decisions about his transition team.
Names like Timothy Geithner, Lawrence Summers and Paul Volcker were being circulated for the Secretary of the Treasury position.
John Podesta, a former chief of staff under Clinton, Valerie Jarrett, one of Obama's top Advisors and Peter Rouse, Obama's Senate Chief of Staff are said to be involved in the effort.
"Obama will begin publicising the steps that he'll be taking to get prepared to lead on January 20," said Valerie Jarrett soon after Obama had delivered his victory speech in Chicago.
Reports are that Obama could however delay naming his economic team to avoid interfering with the G-20 summit scheduled for the White House on November 15.
By Grace Eyram Dartey