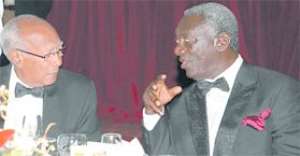 President J. A. Kufuor has observed that the successful conduct of the December 7, 2008 general election is crucial if the country is to continue attracting investments from its development partners.
He said successful elections in December would assure the country's development partners of that enabling atmosphere for increased investment.
Consequently, he said, the government would remain committed to ensuring free and credible elections.
Proposing the toast at a state banquet in honour of the President of Trinidad and Tobago, Professor George Maxwell Richards, at the State House last Wednesday night, President Kufuor said the Electoral Commission and other stakeholders, particularly the political parties, were working towards peaceful and successful elections.
"The nation needs this to assure our development partners of a continued enabling atmosphere for increased investment. l believe the good people of Ghana will ensure this," the President stated.
On bilateral relations between Ghana and Trinidad and Tobago, President Kufuor said he was convinced that the high- level visits between the two countries would help to deepen the bonds of friendship and fraternity between them.
He welcomed the decision of Trinidad and Tobago to extend a scholarship package to train students from Africa in its universities and expressed the hope that Ghanaian students would benefit from the programme.
Responding to the toast, President Richards said he was deeply appreciative of the Ghanaian hospitality extended to him and his delegation during the visit and commended Ghanaians for having great respect for their traditions.
He said although his visit was short, it had afforded him the opportunity to understand the connectivity between the peoples of Ghana and Trinidad and Tobago and appreciate what was required of them to move forward as world citizens.
"It is my hope that our people-to-people relations will be intensified as travel connections between our two countries become direct," he stated.
Story by Nehemia Owusu Achiaw