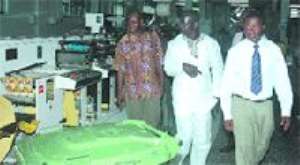 The Managing Director of the Graphic Communications Group Limited (GCGL), Mr Ibrahim Awal, has stated that the company will support the efforts of small and medium-scale enterprises (SMEs) to grow their businesses in the country.
He said that was because the future and hope of the country depended on the success of the SMEs.
Mr Awal said this when the Chief Executive Officer of Chocho Industries, Alhaji Mustapha Boateng, called on him at his office in Accra yesterday.
The visit was a follow up to a supplier's agreement entered into by Chocho Industries and Graphic Packaging Limited (G-Pak) for the latter to print all Chocho's packaging materials.
Mr Awal said G-Pak had the best facility for printing and packaging to meet international standards and, therefore, appealed to industries and companies to source their packaging needs from the company for the best service.
He gave the assurance that G-Pak would team up with Chocho Industries and support it,expressing the hope that the relations being forged between the two companies would be beneficial.
Alhaji Boateng said Chocho Industries had earlier sourced packaging materials from India because it could not get any company in the country which could print its labels and package them to meet international standards.
He said until his company got to know of G-Pak and sourced from it, he did not know that quality printing and packaging could be done in Ghana.
Alhaji Boateng hinted that the company would come out with new products called Chocho Skin Light and Chocho Skin Lotion in December this year.
The General Manager of G-Pak, Mr Charles Antwi, said the company had already delivered the first batch of skiletts for Chocho Cream, Chocho Soap, Chocho Tea whilst those for Chocho Balm were on the production floor.
He said apart from that, many companies such as Unilever also sourced their packaging materials from G-Pak.
Mr Antwi gave the assurance that the company would continue to deliver quality services to its customers and be the market leaders.
Story by Michael Donkor