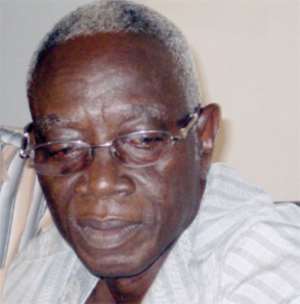 A RECENT nationwide survey conducted by the Danquah Institute indicates that while 91 percent of Ghanaians have predicted free and fair general elections on December 7, nine disagree with the assertion.
According to the poll, 3,483 persons were questioned that "Will the elections be free and fair?"
In a break down of the 3,483 respondents, 261 persons were drawn from the Volta; 385 from the Central; 325 from the Eastern; 596 from Ashanti and 385 from the Western regions.
The other regions include Brong Ahafo with 408 people; Northern, 332; Upper East 150; Upper West, 105 while 536 were questioned in the Greater Accra.
It stated further that whereas 82 percent of those surveyed were voters under the age of 44 years, 41 percent formed the key 22 to 32 year-age group.
"The proportionate representation from all ten regions and of each age group make this the most accurate picture yet compiled of the nation's voting intentions", the poll emphasised.
Meanwhile, the survey noted that the sample size enabled researchers to conduct the poll across constituencies where both the ruling New Patriotic Party (NPP) and the opposition National Democratic Congress (NDC) won the 2004 presidential elections.
It also pointed out some other constituencies which were considered troubled spots and where the NPP won with close margins like Adansi Asokwa while the 'skirt and blouse' voting pattern was attributed to the Adenta Constituency.
In an attempt to seek public view on the work of the Electoral Commission (EC), the survey mentioned that "an overwhelming majority of people have predicted that the elections will be free and fair", noting that 3,178 persons countrywide, representing a 91 percent of the sample size stated that the elections would indeed be free and fair.  
"By region, the most confidence in the election being free and fair was shown in the Western region with 95 percent of those sampled in the region,
Volta with 94 percent and the Upper West with 93 percent," it added.
It outlined the Northern and Brong Ahafo as the two regions with the least confidence in the elections being free and fair with 89 percent apiece holding on to that view.
The Greater Accra, Upper East, Ashanti and the Eastern regions exhibited a 91 percent confidence level each while the Central region displayed 90 percent.
In another poll, more than 3,100 respondents, who represented 89 percent, were reported to have been quizzed on "do you suspect election violence".
From the Ashanti region, 94 percent of the voters surveyed were most confident that there would not election violence, while 82 percent Northerners had the least confidence level of violence free elections.
The second highest confidence region, according to the survey poll, was the Western region with 92 percent and the Central region 91 percent.
The Greater Accra, Volta and the Brong Ahafo regions, each had 88 percent with the Upper East having 84 percent confidence level in a peaceful election, come December 7.
By Nathaniel Y. Yankson