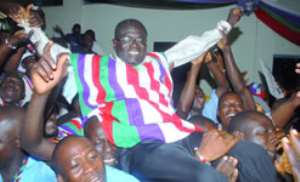 Ms Patience Ameku, Democratic Freedom Party (DFP) presidential running mate, on Thursday promised to improve the healthcare delivery system in the country to reduce maternal and child mortality when her party is given the mandate in December.
"DFP is committed to solving issues relating to health, sanitation and women empowerment since it is basic for human existence," Ms Ameku said during a dialogue for running mates of presidential candidates dubbed: "Women's Dialogue on Elections 2008."
It was organised by Women in Law and Development in Africa as a platform for gender activists to interact with running mates of five political parties' presidential candidates.
Ms Ameku said other areas which the DFP would be more concerned are women security, social issues, education, credit for women and women participation in politics.
"One of the three strategic objectives of the national health policy framework is to improve socio-economic wellbeing of children, women and the elderly. With this vision one would have expected that the design of the National health Insurance Scheme would have been sensitive to the need of women."
"Unfortunately NHIS does not cover female ailments such as breast cancer and ovarian cancer which are among the leading causes of death in women," she said.
Ms Ameku said the government of DFP would draw a comprehensive analysis of the NHIS to determine the inclusion of female ailments and also to have about 50 percent of the coast of women ailment covered.
She said the party when given the mantle to rule would deploy the logistics and competent personnel necessary to expand women access to the service in various hospitals in the country and also establish an efficient database for effective operation of the system.
The DFP running mate said government of Mr Emmanuel Ansah-Antwi would help improve family planning acceptors rate from 22.3 percent to 50 percent in the first four years of its administration.
Ms Ameku appealed to the electorate to vote massively for change by electing Mr Ansah-Antwi as the President of the Republic of Ghana.
Other issues of concern to women are access to credit facilities and politicisation of credits, poor working condition of health staffs, insecurity, employment opportunities for people with physical disabilities, protection of gender rights and the challenges of porters.
The Dialogue was moderated by Dr Esther Ofei-Aboagye of Institute of Local Government Studies and Ms Bernice Sam of Executive Officer of Women in Law and Development in Africa.