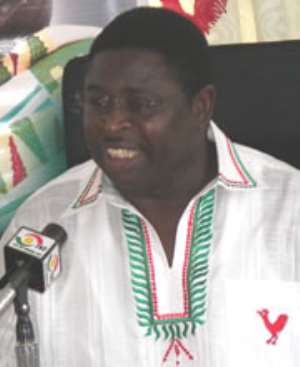 Dr Abu Sakara, the running mate of the Convention People's Party (CPP) presidential candidate, on Thursday said the party's commitment to improving the lives of women must not be seen as rhetoric to score political points.
Instead, he said, the party was committed to real improvement in the living standards of women in all aspects of national life.
"A CPP government will ensure a paradigm shift and give men and women equal opportunity as these relationships are essential for attainment of the economic development goals," Dr Sakara said.
Dr Sakara was speaking at a Vice Presidential Dialogue, dubbed: "Women's Dialogue on Elections 2008 in Accra on Thursday.
The Dialogue was organised by Women in Law and Development in Africa as a platform for gender activists to interact with the running mates of five political parties' presidential candidates.
They are Dr Mahamudu Bawumia of the New Patriotic Party (NPP), Mr John Dramani Mahama of the National Democratic Congress (NDC); Dr Abu Sakara Foster of the Convention Peoples Party (CPP), Ms Petra Maria Amegashie of the Peoples National Convention (PNC) and Ms Patience Ameku of the Democratic Freedom Party (DFP).
Dr Sakara said a CPP government would as a first step deal with the root causes of discrimination against women and use affirmative action policies of women to solve the problem of discrimination.
He said there would be deliberate and conscious effort to ensure that the ratio between boys and girls enrolment was bridged through compulsory and continuous education.
The party will also mainstream gender into programmes to stop the exploitation of women.
On crime, he said, a CPP government would promote public education on the social cost of crime and encourage the public through rewards schemes to report crimes.
Efforts would also be placed on preventive measures to avoid petty crimes and to engage penal reforms through the introduction of vocational training to enable inmates to become useful citizens once they leave the walls of the prison.
Dr Sakara said the widening gap between the rich and the poor in society must also be bridged to stem violent crimes.
Responding to questions on economic empowerment of women, poverty reduction and access to micro credit, Dr Sakara said a CPP led government would use the rural banks to advance micro-credit to women.