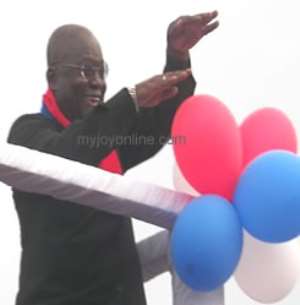 The presidential candidate of the ruling New Patriotic Party (NPP), Nana Akufo-Addo still has a lot of work to do in the Afram Plains area as some residents say government has failed to deliver on its promises.
The NPP flag-bearer pitched camp in the district on Thursday in a bid to boost the support base of the party in the community, long branded as a stronghold of the opposition National Democratic Congress (NDC).
Some residents in the plains who spoke to Joy News said the Akufo-Addo campaign team could not start basking in the glories of the party, especially in the face of what they saw as the 'enormous hardship' in the 'system.'
Joy News' correspondent Benard Saibu had a chat with some teachers in the area who cited problems from lack of meals on table to chemicals in their school laboratories.
"It has been almost 15 months now that we have been posted to this land, nothing of salary; we cannot hear of anything now," a teacher in a local school lamented.
He claimed that although the government could be wearing a thick stack of credentials, in terms of policies initiated to ease the financial burden on the citizenry, a lot was still left to be done.
Saibu also reported that for most of the people, politicians had been most deceptive, always failing to deliver on their promises.
"Whenever they say something they actually don't do it."
"When you go to our Science Resource Centre, we don't have chemicals that we will use; I'm a Science student alright but our chemicals we'll use for practicals to know what we're going to face in the final exams are not there," a student of a local senior high school said.
He said the situation had made education in the district more theoretical than practical.
Nana Akufo-Addo restated his promise of making senior high school education free if he is elected President in the December 7 elections.
He told the people the NPP government would make priorities of the economy, health-care and education to thrust the country into a middle income status by 2015. (Listen to attached audio.)
Story by Fiifi Koomson