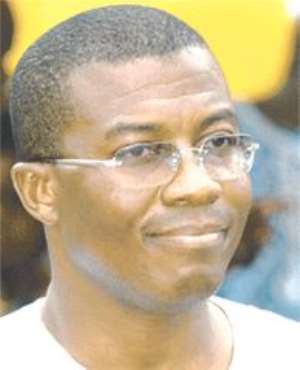 The Deputy Minister of Tourism, Mr Kofi Osei-Ameyaw, has challenged the Presidential candidate of the National Democratic Congress (NDC), Professor John Evans Atta Mills, to substantiate his claim that the NPP is preparing to rig the elections.
He described the allegations by Prof. Mills as "unbelievable", which had the tendency to tarnish the image and reputation of the nation and put the results of the 2008 elections in doubt, if the NPP won.
Mr Osei-Ameyaw, who is also the New Patriotic Party (NPP) parliamentary candidate for Asuogyaman, was briefing the press in Accra.
He said it was unbelievable that a former vice-president of the Republic of Ghana could make such wild allegation without any shade of proof and raised unnecessary doubts about the credibility of the forthcoming polls, tainting the image and reputation of the country as well as creating avoidable political tension.
Recently, Prof. Mills told an ECOWAS pre-election Fact Finding Mission to Ghana, led by the former Interim President of Liberia, Prof. Amos Sawyer, that there was enough evidence that the NPP was preparing to rig the December 7 polls.
"Very senior and respected members of this country have been telling me that some senior members of the NPP have told them that they know they will not make it in this year's election based on their poor performance, but they will steal it. This is a common refrain from the NPP.
 Those who tell me indicate their sources and I can't discount that," he alleged.
Mr Osei-Ameyaw said while Ghanaians were working hard to enhance Ghana's image to attract more tourists, "we have a former vice-president going round and making unsubstantiated allegations that an unnamed friend of his had told him that his friend in government had said somewhere that the government was planning to rig the elections.
"Prof. Mills doesn't just get it that rigging an election is criminal and he is condoning criminality by refusing to report the information he has to the police," Mr Osei-Ameyaw said.
He wondered why Prof. Mills, who claims to have such information and believed it to be credible, would not report to the security agencies to nip everything in the bud.
"I believe Prof. Mills understands the laws of the land very well and should not be the one to talk that way.
People who want to lead this country ought to weigh the effects of what they say before making it public."
He explained further that statements from politicians during electioneering could go a long way in determining how peaceful the elections would be.
Story by Donald Ato Dapatem