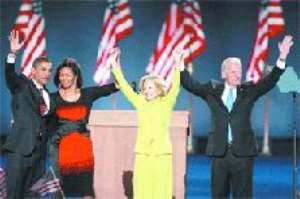 A spontaneous explosion of joy in towns and cities across Africa greeted the election on Tuesday of Democratic candidate, Barack Obama, as the 44th President of the United States of America.
As many African leaders send him letters of congratulation, Kenya, his father's country, has declared today a public holiday to celebrate his election.
Obama's father was from Kenya and his victory prompted jubilation across that country.
"We the Kenyan people are immensely proud of your Kenyan roots," President Mwai Kibaki said.
The BBC's Juliet Njeri says Mr Obama's step-grandmother was seen dancing and cheering jubilantly outside her house after the results had been declared.
She said Mr Obama's family stayed up all night in the western Kenyan village of Kogelo, watching the election count, and they were now preparing for a big party.
Nelson Mandela, South Africa's first Black President, welcomed Mr Obama's victory as a sign of hope for everyone.
"Your victory has demonstrated that no person anywhere in the world should not dare to dream of wanting to change the world for a better place," he said in a letter of congratulation.
In Kisumu city, near the Obamas' home village, there is a carnival atmosphere and people have poured onto the streets singing Mr Obama's praises.
Political leaders are expected to join massive celebrations planned in the city, which considers Mr Obama their chosen son.
In January, Kisumu was the scene of running battles between members of the public and the police after riots broke out over Kenya's contested elections.
But correspondents say the US election seems to be a unifying moment for the country, with people reported to be saying that Mr Obama's victory is a victory for all Kenyans.
In the capital, crowds were seen singing and dancing, waving branches and carrying posters of Mr Obama along Ngong Road, one of Nairobi's major highways.
"Your victory is not only an inspiration to millions of people all over the world but it also has special resonance with us here in Kenya," Mr Kibaki said.
Mr Obama inherits a foreign policy legacy in Africa that has been one of the high points of the George Bush administration.
Earlier this year, President Bush toured five African nations and people greeted him in their thousands to applaud him for America's huge contribution to the fight against HIV/Aids.
Since its launch five years ago, his Aids relief programme has spent more than $15 billion on the continent and saved many thousands of lives.
And Africans will look to Mr Obama to deliver more when he takes office in January, and his difficulty will lie in matching the soaring expectations.
The victory was greeted with wild celebrations by a number of Ghanaians, with the belief that the world superpower had overcome years of racial strife.
A public appraisal of the presidency of Mr Obama conducted by the Ghana News Agency (GNA) in Accra on Wednesday captured deep-seated trust and confidence among Ghanaians that a first Black-American leader was likely to be more sympathetic to the development agenda of Africa.
Mr Percy Amoah Gogoe, a social worker, told the GNA that the premium Americans placed on Obama's mantra of "Change" was likely to spice the foreign policy of the US for the next four years.
He stressed, "As a Pan-Africanist, I strongly believe that history is in the making."
Mr Gogoe said the historic struggle of African-Americans for racial justice had paid off.
Mr Alabira Ibrahim of the Millennium Challenge Account Authority noted that Obama's victory was a phenomenal achievement that would cause transformation in global politics and economic progress.
Mr Mustapha Sanah, the Executive Chairman of Northern Ghana Aid, an international non-governmental organisation, who spoke to the GNA from the US, congratulated the first Black president of the US and asked Mr Obama to honour all his electoral promises and double aid to Africa.
He, however, cautioned Africans not to expect too much from Obama's administration.