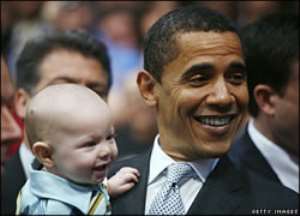 Mothers in Kenya have marked Barack Obama's historic win in the US presidential elections by naming their newborns after him and his wife.
More than half of the babies born in a Kisumu Hospital on the day after the election were named either Barack or Michelle Obama.
Kisumu is close to the village where Mr Obama's father was born and raised and Mr Obama is a local hero.
The region erupted in celebration after he won the race for the White House.
Out of 15 babies born in the New Nyanza Provincial Hospital in the western city of Kisumu on Wednesday, five boys were named Obama and three girls were called Michelle.
Pamela Adhiambo, who gave birth to twins – a boy and a girl - on the night after the elections, named them Barack and Michelle Obama.
"I made up my mind to name them long before the elections, and even if Obama had not won, I would still have done the same," she said.
Some of the mothers said they admired the couple and hoped that their children would be inspired to reach for great heights by sharing the names.
Mrs Adhiambo said she hoped the names would motivate her children to work hard and achieve as much as the Obamas.
She invited Mr Obama and his wife to come and visit their twin namesakes.