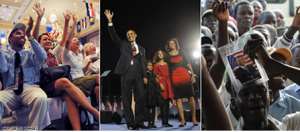 Mr Harry Ahorlu, an Accra based 'International Peace Ambassador' on Wednesday said Ghanaians should be inspired by the peaceful nature of the US presidential election and ensure a peaceful election.
"My Prayer is that, just like the Americans, Ghanaians will wake up Monday December 8 very peaceful, happy and united as one people," he said.
Mr Ahorlu said this when he addressed students from selected Senior High Schools in Ho at the launch of his 30-day peace walk across the country.
The 2,000 kilometres walk would take Mr Ahorlu to all the regional capitals to deliver his peace message at the door step of the citizenry.
Mr Ahorlu said he believed the success of the US election was a sign of good omen for peaceful elections in Ghana and called for tolerance and peaceful coexistence among the citizenry.
He urged the young people especially students to be stewards of peace to safeguard their future and generations to come.
Mr Roland Segbor, Headmaster of Wallahs Senior High School, advised Christians not to be apathetic towards politics and urged all religious leaders to pray for the "right leadership for the country".
Reverend Senyo Kudjo of the Fountain of Life International Chapel, who chaired the function, advised the students to keep the message of peace alight before, during and after the elections.