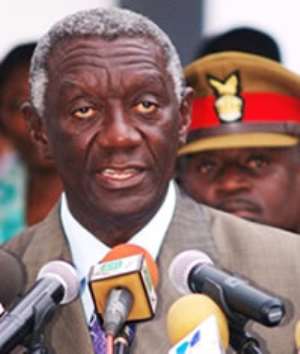 President John Agyekum Kufuor has inaugurated a $100 million cocoa processing plant for Cargill Ghana Limited in Tema for the production of top-range products.
Cargill is an international cocoa processing company operating in over 67 different countries with more than 160,000 employees all over the world.
The company, a long-standing buyer and processor of Ghanaian cocoa beans, is rated highly for processing cocoa beans into premium cocoa products such as liquor, butter and powder.
Ghana has for more than a century been a producer and exporter of raw cocoa beans to various countries but the new Cargill plant which was opened yesterday by President Kufuor has a capacity to transform 65,000 tonnes of cocoa beans per annum into high quality cocoa products for the global market. When it assumes full capacity in the coming years, the company is expected to process about 120,000 tonnes.
The company has been processing cocoa in West Africa for almost 10 years and the Tema branch provides full employment to over 200 people with hundreds more expected to gain indirect employment through its operations.
President Kufuor said that words cannot adequately express the pride and sense of fulfillment he feels in witnessing the completion and opening of the state-of-the-art facility for whose construction works he cut the sod barely 16 months ago.
Government, the President said, is pursuing innovative and far-reaching policies such as removing legal and administrative bottlenecks to nurture and expand the private sector to become the fulcrum of Ghana's economy.
Other measures being pursued, he mentioned, included reforms in the financial sector, reduction of corporate tax, improvements at the export processing zones and strong adjudication of business related cases at the commercial courts.
Production in the cocoa industry has more than doubled in the past eight years. "Cargill can therefore look forward confidently to an uninterrupted supply of raw cocoa beans."
The President observed that the setting up of the Cargill facility in Ghana "is indeed a great boost to the national economy".
Ghana's image, he said, is enhanced by the citing of the Cargill factory in the country and it confirms Ghana's reputation as a good place to do business.
"The factory creates an opportunity for Ghana's cocoa products to penetrate the international market through the vast network that Cargill has developed globally over the past half century."
Isaac Osei, Chief Executive of Ghana Cocoa Board in a good will message said his outfit is determined to give the necessary support to local companies to promote domestic processing of cocoa to at least 40 percent of national output.
Ghana, he said, plans to hit an annual production level of one million tonnes in the medium term.
Leo Winters stated that safety is the hallmark of the company and it will continue to make that a top priority.
Greg Page, CEO of Cargill, said his company would not have invested in Ghana if it did not believe in its strong future. "$100 million is a significant investment and this more than any other measure, signals Cargill's commitment and confidence in Ghana."
Source: Daily Guide