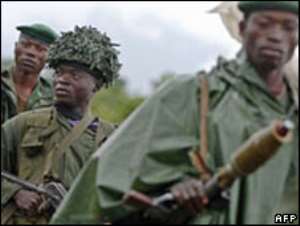 Peacekeepers have been caught up in renewed clashes in eastern Democratic Republic of Congo after days of relative calm, the United Nations says.
Fighting broke out between rebel forces and two pro-government militias, said a UN spokeswoman in the main town, Goma.
Rebel leader Gen Laurent Nkunda last week declared a ceasefire, as his forces approached Goma.
The BBC's Peter Greste in the town says the clashes are worrying but do not necessarily mean the ceasefire is over.
Goma is surrounded by rebel forces, which have routed government forces.
Some 250,000 people have fled their homes and aid agencies are struggling to help them.
Caught in crossfire
Some fled the countryside for Goma but others have since returned, as there is not enough food or shelter for them in the town.
Earlier, the French foreign minister called for the mandate of the 17,000-strong UN peacekeeping force in DR Congo to be strengthened.
UN peacekeeping chief Alain Le Roy, visiting Goma, said the UN mandate was currently to "protect civilians and to support the army in disarming rebel forces".
"Our mandate is not to defend cities," he told the BBC's Network Africa programme.
The latest clashes broke out just north of Rutshuru, around 80km (50 miles) north of Goma, where a UN convoy carrying medical supplies arrived on Monday.
"Our base was caught in the crossfire between CNDP [Gen Nkunda's National Congress for the Defence of the People] forces and Mai-Mai in the north," said UN spokeswoman Sylvie van den Wildenberg.
The UN refugee agency said three camps for displaced people near Rutshuru had been emptied and destroyed.
The UNHCR said it was trying to establish the fate of about 50,000 people who had been sheltering in the area.
Our correspondent says there have been some deliveries of fresh water and high-energy biscuits to those displaced by the fighting but he says this is just scratching the surface of their needs.
Medical aid agency Medecins Sans Frontieres said it had been treating displaced people for cholera in mobile clinics.
Diplomatic efforts
Gen Nkunda has threatened to topple the DR Congo government in Kinshasa, 1,580km (980 miles) west of Goma, unless President Joseph Kabila agrees to hold direct talks.
But our correspondent says this could be hubris, as it is hard to see how he could transport his 6-7,000 fighters all the way across a country the size of western Europe.
The rebel forces do, however, appear to have the strength to take Goma, he said.
UN Secretary General Ban Ki-moon says he is ready to fly to the region at the weekend to help mediate a deal to end the conflict.
He said he would meet Mr Kabila and his Rwandan counterpart, Paul Kagame.
But Rwanda said demands for a meeting between the Congolese and Rwandan leaders were based on a "misperception".
"The prevailing assumption that the crisis is a matter between Rwanda and the DRC is wrong, contrary to what some in the international community continue to say," a government statement said.
Gen Nkunda says he is fighting to protect his Tutsi community from attack by Rwandan Hutu rebels, some of whom are accused of taking part in the Rwandan genocide in 1994.
Rwanda has repeatedly denied accusations that its forces were supporting Gen Nkunda.
But it has frequently accused the Congolese government of not doing enough to tackle the Rwandan Hutu rebels and has twice invaded its much larger neighbour on these grounds.
Lobby group Global Witness recently accused the Congolese army of working with the rebels to mine gold and tin in the area.
Source: BBC