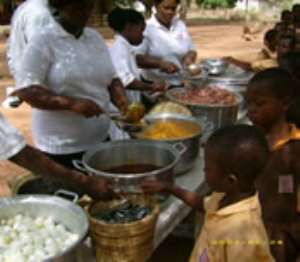 The Ghana School Feeding Programme (GSFP) has released over eight million Ghana cedis for the feeding of school pupils throughout the country.
The amount would cover the feeding of the pupils for 33 academic days.
Mr Solomon Kwame Donkor, Deputy National Coordinator in charge of Finance and Administration of the GSFP, announced this at a workshop organized for stakeholders of the programme in Tamale at the weekend.
Participants at the workshop included district coordinators of the GSFP, cateress, cooks and Non Governmental Organisations (NGO).
The workshop was to educate the various stakeholders on the new measures and structures to be implemented to enhance the efficiency and effectiveness of the programme.
He announced that new schools were to be enrolled unto the programme with the three northern regions benefiting from 30 percent of the allocation, which is expected to raise the number of school children been fed to 95,000 pupils.
Mr Donkor warned district coordinators of the programme and others involved in its implementation not to extort money or other favours from the cateress to let them compromise on the quality and quantity of the food they prepare for the pupils.
He warned that those caught in such dealings would be promptly dismissed.
The Deputy National Coordinator asked the district coordinators to open separate accounts for the GSFP and also ensure that proper accounts were been kept.
He said the objectives of the GSFP were so laudable that all the presidential candidates had pledged to continue with it if voted into power and therefore appealed to all the stakeholders to work hard to ensure its success.
Professor Acheampong Yaw Amoateng, Deputy National Co-ordinator in charge of monitoring and evaluation said the activities of his outfit formed an important component of the restructuring exercise and as such more staff would be employed into that sector to improve upon efficiency.
He said in this regard the remuneration of the staff would be increased to commensurate with their qualification, while efforts would also be made to provide them with offices, computers and vehicles.