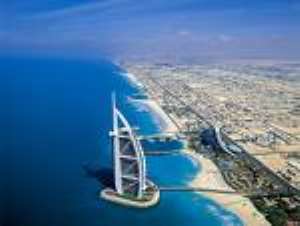 The Ghanaian Community in Dubai has called on the Government to open a Consulate in Dubai to cater for the needs of the large number of Ghanaians, both residents and travellers that frequent the Emirate.
An e-mail received from the Community said the growth of Dubai was unprecedented and professionals from all over the world flocked to Dubai for jobs.
It said the Community prided itself with the law-abiding behaviour of resident Ghanaians and their hard-working nature, which had made multinational organizations and international banks such as Barclays, Standard Chartered and HSBC to recruit their staffs from Ghana.
It said the Community intended to monitor the high rate of non-Ghanaian residents in the UAE using Ghanaian Passports and to establish possible links with reputed Banks in Ghana and Dubai to eliminate the hassle Ghanaian Traders go through in having to carry hard cash when going to trade in Dubai.
It is also aimed at fostering business links with entrepreneurs, who have expressed their desire to invest in Ghana.
Meanwhile, a new Executive has been elected for a three-year term with Mr Davidson Rich-Agoe as president.
Other members of the Executive are: Vice President, Eric Magnusen of Standard Chartered Bank; Finance Officer is Stella Attuah-Afari, Senior Sales Executive at the Dubai Festival City; Organizing Secretary is Gideon Ofori-Adjei of Arif & BintOak Consulting Architects and the General Secretary is Ignace Kofi Kudu, a Quantity Surveyor with Bartawi Civil Engineers.