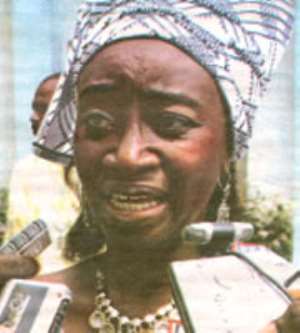 An Accra-based all-talk radio station, Asempa FM, is retracting a news item it carried on October 28, this year which imputed that a member of the Council of State, Ama Busia, had described Nana Frema Busia, daughter of the late Prime Minister, Dr. Kofi Abrefa Busia, as a "mental case".
The station said the story it put out could not be correct.
The story, which was widely carried by the network and on the Internet, said Ama Busia had disassociated herself from a press conference held by Nana Frema Busia, in Accra on Monday October 27, 2008, at which she accused President Kufuor and several members of his government of a abuse of office.
Asempa FM further published that Ama Busia had planned a press conference of her own at her residence at Abelenkpe in Accra to rebut claims by Frema and she (Frema) was hopping from one radio station to another which creates suspicion that 'there is something wrong somewhere.'
However, in a statement issued in Accra today, the station offered its sincere and unqualified apology to Ama Busia who, incidentally, is a sister to the late Prime Minister Dr. Busia.
The General Manager of Asempa FM, Mr. Klaus Vonbackustein, said the station regrets any embarrassment that the said news item might have caused Ama Busia, the entire Busia family and the Council of State.