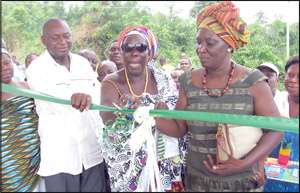 THE MANAGEMENT of Dreams Galore Limited, producers of Aloe Vera products, has commissioned a new factory at Anum in the Eastern region. It is the first ever large-scale industrial unit to be established in the entire Anum Traditional Area.
The opening of the new factory formed part of efforts by the company to reveal the immense benefits derived from the Aloe Vera plant to majority of Ghanaians.
Mrs. Grace Coker, Chief Executive Officer of the company told HEALTH MATTERS that more than 20 people from the town have already been employed to work in the new factory.
"10 of them are currently working on our Aloe Vera farm whilst the rest are yet to be taken through training by the Food and Drugs Board, the cost of which will be borne by our company," she stated.
The new factory, she indicated, was expected to produce as many as 3000 litres of Aloe Vera juice a week, after which the quantity would gradually be increased depending on the market share.
She expressed the company's appreciation to the traditional leaders of the area for releasing land to them for the project.
Nanahemaa Otutua, queen mother of the area who chaired the function, commended Mrs Coker and her group for the initiative, saying it would help minimize the unemployment situation in the area.
She appealed to the Anum Rural Bank to use its good offices to grant the company credit facilities to enable it expand its operations.
Nanahemaa Otutua also asked the company not to hesitate to knock on the traditional council's door for any assistance.
The occasion was graced by a number of dignitaries including Nana Okyempem Adu VII, Benkumhene of Anum Traditional Area; Mr. K. Kudjo, Coordinator of the Asuogyaman District Assembly who was the guest of honour; Nana Okoreawene, Adontenhene of Boso Traditional Area and Mr. M.F. Klutse, an Environmental Health Officer.