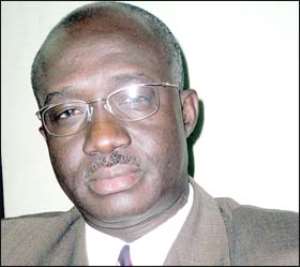 Former Energy Minister, Kofi Adda has admitted snubbing the Vice President publicly at a New Patriotic Party (NPP) rally in Navrongo over the weekend.
According to him, though he acknowledged the presence of the NPP 2008 vice presidential candidate, Dr. Mahamudu Bawumia and several other leading members of the party, he did not deem it necessary to acknowledge the Vice President as he wanted to avoid embarrassment.
"I did not acknowledge his presence before and after my address and I did not see anything wrong with that; after all, he does not like me," he said during an interview on Peace FM's morning show yesterday.
Explaining his action, he emphasized that his relationship with Vice President Aliu Mahama had been strained for some time now and therefore saw no reason why he should acknowledge his presence.
He added that everybody has their way of acknowledging people and "I have my way also. Sometimes I can wave and nod my head and go away".
An alleged verbal exchange between the Vice President, Alhaji Aliu Mahama's aide and Kofi Adda degenerated into fisticuffs on Saturday when Mr. Adda took his turn to address the rally.
Giving his account of the brawl, Mr. Adda said when he mounted the dais to address the people Alhaji Mahama said "an unpleasant thing to me which I retorted".
When questioned whether he was fighting everybody in the party as alleged by the Vice President, he replied that he was not fighting anyone but it was his opponents who were fighting him.
He reiterated that Alhaji Aliu Mahama repeated the claim, but he (Adda) maintained his stance, to which the Veep said "young man, you are not polite".
"When the Vice President said this, I thought it was a joke until he said it for the second time before I realised he really meant what he was saying."
This scenario, he said, caused one Adam Mahama to approach him and start questioning him about the way he spoke to the Vice President and subsequently proceeded to physically assault him.
"I had gone out to speak at the platform at a Bolga rally to meet the running mate of the NPP and as I came down I greeted the dignitaries and went back to stand where I was.
But as I was going, there was an exchange between us and the Vice President. When I got there and was standing, I had this hoodlum porter of Aliu approach me and started questioning the way I spoke to the Vice and he proceeded to physically assault me; and as it started there was throwing of fists and the security agents came in to restrain us," he recounted.
Continuing, he said that is why "I decided to stay at my corner and not go near him, even though I was prevailed upon to acknowledge him. Aliu dislikes me because he sponsored someone to contest me in the primaries".
He confessed Adam Mahama head-butted him and he tried to punch him up in defense, adding that he had reported the incident to the police.
Earlier, Mr Adams pointed out that the Vice President instructed him to physically attack the former Energy Minister.
He however indicated that when the incident happened, he was nowhere near the Vice President.
"I was five metres away from them and I only told Adda to tone down his voice but he snubbed me and carried out his game."
Mr Adams expressed disgust at the utterances of Mr Adda, describing his actions as a disgrace to society.
By Sheilla Sackey