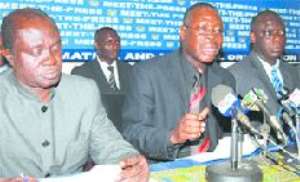 The government will pay all arrears due workers on the national payroll by next Friday, November 7, 2008. It has also suspended the recovery of payment from workers who were overpaid in previous months until proper investigations have been conducted into the issue.
The payment of arrears will be made to teachers whose salaries were withheld when they went on unauthorised industrial action in October last year but were pardoned by the President later.
The rest are arrears due some workers before the commencement of the Integrated Personnel Payroll Database II (IPPD II) spanning June to October 2006, as well as workers who have been receiving negative pay, zero pay or payments far below their actual salaries.
These were made known in Accra  by the Controller and Accountant-General, Mr Christian Tetteh Sottie, at a press conference.
Present at the conference were the Minister of State at the Ministry of Finance and Economic Planning, Dr Anthony Akoto Osei, the Deputy Minister, Professor George Gyan Baffour, as well as some senior officials of the Controller and Accountant-General's Department (CAGD).
Mr Sottie at yesterday's conference, apologised to workers who had negatively been affected, adding that the problems with the IPPD II had been resolved.
He said to beef up the ICT unit of the department, a deputy controller who was an expert in ICT had been employed to help.
"Workers will, from November 2008, start seeing better results," he gave the assurance.
In an answer to a question, Mr Sottie said the decision to suspend the recovery process was not political but rather a decision to correct an earlier mistake, adding that the law did not allow that a worker be paid less than 50 per cent of his or her actual salary by the end of each month.
For his part, Dr Osei said to get the best payroll system for Ghanaian workers, there was currently a back up to the computerised system, adding that if need be, a third system would be acquired to further resolve the problems with salaries.
He pointed out that the issue of workers' salaries was considered important to the government, hence the instruction from the President to the ministry to find a solution to the anomalies associated with the payroll.
Dr Osei said unless there was evidence that someone intentionally did something to cheat the system, there was no need to apportion blame as to why there were problems with the system.
Prof. Baffour said the government was right to suspend the recoveries until a decision had been taken as to how to go about them.
The chairman for the programme, who is also the Deputy Minister for Information and National Orientation, Mr Frank Agyekum, expressed gratitude, on behalf of the government, to all the affected workers for their patience.
Story by Lucy Adoma Yeboah