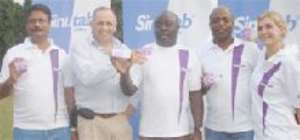 A new product, Sinutab, trusted for its sinus remedies, was formally launched and introduced onto the Ghanaian market at a ceremony in Accra over the weekend.
The Sinutab three-way product provides fast and effective symptomatic relief from sinus nasal congestion, sinus pain and fever.
It is produced and manufactured by Johnson & Johnson, a South Africa-based drug manufacturing company, and has Ernest Chemists Limited as its accredited local representative.
Launching the product, Mr Patrick Asiamah, the Brands Manager in charge of the Johnson & Johnson product line at Ernest Chemists Limited, said the two companies understood and appreciated the role and importance of pharmacy support to ensure a successful product launch and had, therefore, found it expedient to engage medical practitioners, pharmacists and paramedical staff in a product training session to precede the launch.
He explained that the training session had been aimed at providing the necessary information on the product to make it easier for the practitioners to offer help to all nasal congestion sufferers who visited their hospitals, clinics and shops.
Mr Asiamah said the drug, a household product in South Africa, Europe and the United States, was effective in treating congestion.
He was optimistic that the introduction of the product in Ghana through the instrumentality of Ernest Chemists Limited would go a long way in addressing the sinus and nasal congestion problems some people suffered in the country.
The Brands Manager of Sinutab, Johnson & Johnson, Riette Erasmus, who took the practitioners through the training session, talked on the identification of symptoms that caused congestion, the benefits of the drug to the customer, the dosage and the active ingredients of the drug.