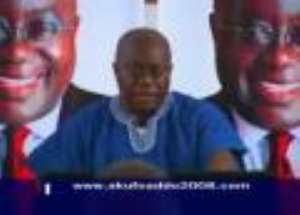 As a person who sincerely believes in the ideals and ability of Nana Addo Dankwa Akufo Addo to turn the economy of the country around through practical oriented policies. Let me exploit this opportunity to give a fitting response to the inaccuracies, distortions and utter falsehood as contained in the write-up put in the Ghana Web, Modern Ghana, The Ghanaian Journal, and some Ghanaian newspapers by one, Sammy Osei Tashman, NDC Parliamentary Candidate for Abuakwa South Constituency, I cannot watch the article go unchallenged.
I am not surprised that such baseless accusation and allegations should come from Osei Tashman, a candidate who has already smelt defeat and is doing everything in his power, including the unthinkable to make him become relevant in the scheme of things in the Abuakwa South Constituency. A drowning man will always clutch at anything in sight, just to keep him a float.
He claims the Regional rally held at Koforidua on the 24th of October, 2008 and dubbed Homecoming Rally is nothing but a mere bogus claim. Was the Tashman at Koforidua to see things for himself? If he was not, let me tell him what my NDC friend, Kofi Asamoah said. At least Kofi Asamoah, was honest enough to admit that the Koforidua Rally would be the talk of the town for a long time on account of the unprecedented number of people who came out to welcome the son of the soil. But he also added that it went a long way to corroborate what the NDC has been alleging for a long time - that the NPP was a tribal party. He said, 'my brother, this thing na wao. I could not fathom the reason why many people should descend on Koforidua just to see the man you refer to as "Our President". What do people see in the man at all? The man is a crowed puller. That notwithstanding, I don't see how your "Our President" could defeat our experienced and tested Atta Mills, for Mills is a sure winner".
Well, over to you Tashman. This reminds me of an incident which happened during the Presidency of Olusegun Obasanjo. The Nigerian Labour Congress had declared a stay at home order. Cabinet Ministers gave him the impression that the strike had been a total failure. According to Dr. Doyin Okupe who was Obasanjo's Press Secretary at the time, he opened the windows and asked Obasanjo if he could see any single soul in sight. It was obvious; those ministers were saying the exact things they felt Obasanjo wanted to hear. And that is similar to the path Samuel Osei Tashman has chosen to thread. But I assure him that the journey will be aborted midstream.
He makes mention of the deplorable conditions at Kibi District Hospital and also refers to how countless number of pleas asking Akufo Addo to grant audience to the Hospital Management Team to deliberate on how best the problem can be resolved have not yielded any positive response.
This is a blatant lie. Nana's doors are always open to people far and wide. One cannot count the number of times, people have visited him at Kibi with one problem or the other and how he has tried to solve them to the best of his ability and resources. In spite of his tight schedule, he makes sure he visits the Hospital any time he has the opportunity. On one such occasion, he personally interacted with the staff and the patients of the hospital. It was a delight to see Nana Addo at the hospital moving from one ward to another, cuddling babies and asking questions here and there from both patients and workers alike. He wants to have and in-depth knowledge of the workings and problems at the Hospital. There has been much improvement ever since. He is a human being, and there is a limit to what he can do at a particular point in time. I am not saying all the problems have been solved. But at least we have started from somewhere. This is quite at variance with what was obtainable when the NDC was in power. Corpses were getting rotten at the hospital morgue on regular basis.
The insinuation that Nana does not want to meet the Hospital Management Team is therefore spurious. The Hospital has a reputation and Nana would not like the image to be dented under his tenure as Member of Parliament for the area. He will therefore do anything humanly possible to ensure that the Hospital lives up to its hard won reputation. Thus attempts by political adversaries and detractors to tarnish Nana Addo Dankwa Akufo Addo's name will be fiercely resisted by the good people of Ghana. Let people take a trip to Kibi and see things for themselves.
The truth of the matter is that there have been various attempts by organized mob of rabble rousers. Obviously, judging by the antics, utterances and insults Osei Tashman has been heaping on Nana Addo Dankwa Akufo Addo at the least opportunity, one is not surprised at this new trend of taking his allegations to the web. Tashman has shown by all intents and purpose that he hates our Presidential Candidate with a strong passion.
He alleges that only 5% of JSS graduates within the constituency get access to the only SSS in the Constituency (Abusco). He says Grade levels in JSS within the constituency are very low. It must be stated that Abusco is not the only SSS in Kibi not to talk about the Constituency itself. In Kibi Township itself, there is a Technical Secondary School, in addition to the Teachers Training College and a school for the deaf. Senior High Schools are also sited in towns like Asiakwa, Asafo-Akim, Apedwa and many others. The premise of his argument is false. Therefore any conclusions arising from such a false assumption cannot be said to be genuine. It is just like building a house on the sand. It will not stand.
It is equally not true that only 5% gains access to SSS. It must also be pointed out that people a particular locality should by all means be admitted into schools within that community. The Computerized Selective System tries as much as possible to place pupils in schools of their choice. But if students in the constituency choose schools outside their locality, why should Nana Addo Dankwa Akuffo Addo be blamed?
On the poor result within the constituency, let me state that, it is not as bad as our Tashman would want us to believe. Nana on his own together with the DCE and those who matter in the area of Education have held several State Holders meetings to see what could be done to resolve the problem. The Committee which was constituted has come up with some far reaching recommendations. Very soon, we shall begin to reap dividends of such efforts. What has Sammy Osei Tashman done about the so called poor results? But let me also re-instate that the issue of poor result is a national phenomenon and should not be restricted to Nana Addo Dankwa Akuffo-Addo's constituency alone. But even here, Nana has not stood aloof. He has initiated moves to redress the problem.
Another untruth being peddled by the likes of Sammy Osei Tashman is that Akuffo Addo has plunged the constituency into abject poverty. He alleges that under his watch as MP, income generation in towns like Asiakwa, Sagyimase, Adukrom, Asikrom, Pano, Kibi Apapam, Akwadum, Potroase, Odumase, Amanfrom and Apedwa has plummeted by over 70% as a result of road diversion from these towns.
While the road passed through the towns Tashman has listed, can he tell us how it helped generate income for the people? We have not forgotten the countless number of lives that was lost almost on weekly basis at Kibi as a result of being knocked down by speeding vehicles. What criteria./ yard ship did he use to arrive at the 70 % figure?
One should not overlook the fact that majority of the people in the area are farmers and with the increase in the producer price of cocoa by the NPP government of which Nana Addo Dankwa Akuffo Addo is a key player, common sense would dictate that the lot of the farmers in these town would be better than before. In addition the government of the NPP has for the past seven years been paying bonus to cocoa farmers. If one talks of towns like Nsawam where sellers of bread would be negatively affected if the road is diverted, I will understand. But even at Nsawam, any time there is traffic hold-ups especially on Saturdays, sellers of bread trek far distances to create market for themselves.
It is not all negative when the issue of road diversion is mentioned. Diversion, though unpalatable has its advantages. A town in point is Asafo Akim. My father taught there in the 70's but last year when I went there I found out that the town has expanded. People have started building houses along the new road. Take Suhum for example. When the road was diverted from the town in the seventies, many were those who condemned the move. All the developments along the new site were not there. But today, they form part of Suhum
One should also not forget the problem associated with the Potroase portion of the road. Not a week passed by without one fatal accident or the other occurring along that part of Apedwa-Kibi road. It was difficult and tiring driving behind a long line of trailers. From Potroase to Kibi which is less than ten minutes drive could take thirty minutes or more depending upon the type of vehicles plying the route on those days. With the diversion of the road, plying the Apedwa-Kibi Bunso route has become much safer and quicker.
It was not Nana Akufo Addo's own making that road was diverted. National interest superseded individual and parochial ones. With the decision taken to divert the road many lives which could have been lost have been saved. It is my firm belief that a decision would be taken to link Kibi Township and others with the new road from Nsawam to Kumasi so that one could use either the Apedwa – Bunso route or Kibi –Bunso route when going to Kumasi.
Our Tashman shot himself on the wrong foot when stated that "Akufo Addo's three terms as parliamentary member of the constitution cannot be attributed by any measure of perceived support of the people of Abuakwa South Constituency. He has always in collaboration with some royalties within the constituency."
Haba! How could one descent to the use of such crude methods to malign Nana Addo Dankwa Akufo Addo, a man who is far ahead of Tashman in every aspect of human endeavors? Nana has carved a niche for himself as a defender of human rights, a social crusader, technocrat, a patriot and what have you.
Tashman also has royal blood in him. Let us see how his royalty is going to help him become the MP of Abuakwa South. If the elections were rigged on those three occasions, why did he not report them at the time they occurred? Does Sammy Osei Tashman have the love of his constituents at heart? I wonder if he did. It is an offence to have knowledge of a crime but refuse to disclose it. From his own account the constituency had rejected Nana Akufo Addo on those occasions, but he was able to cling unto the seat on account of unorthodox and crude methods. If Sammy Osei Tashman, the NDC candidate loves his constituency as he claims he does, he should have alerted the law enforcement agents about it long ago. Or is it that he has now wakened up to his responsibilities on account of his contesting the Parliamentary seat?
Now comes the mother of all lies and untruths. His allegation that one Kwame Danso, alias Fumancho, and NPP agent had recounted in tears how the option to either mount an NPP platform and pledge his support of or face a jail term for allegedly falsifying his C.V was shoved down his throat.
The truth of the matter is that nobody forced Kwame Danso to mount the platform and openly declare for the NPP. Was he tied and dragged to the stage? No! You see, if one has a problem, the first point of call is one's immediate constituency, which in Kwame Danso's case happened to be the NDC. But the party could not offer any assistance and so he turned to the NPP. And the party being its brother's keeper decided to help. Our brother in need, Kwame Danso reviewed his association with the NDC, including all the nasty things he had done for the party against the NPP and concluded that it would be in his own interest to pitch his tent in the camp of the elephant instead of the umbrella and he did just that. He took many things into consideration before "to your tent, O Israel" call was issued. What is wrong with that? Why does he have to bring the name of our Presidential Candidate into the matter?
We should not overlook the fact that the NDC has had the penchant for forsaking its members in difficulty. A classical example is the failure to legally assist her embattled and aspiring Member of Parliament who had deliberately committed a crime against the constitution of Ghana, a country we all claim to love and cherish.
In an earlier paragraph, Sammy Osei Tashman had written "we the people of Abuakwa south constituency will not allow our intelligence to be insulted by a privileged and insensitive few for on December 7, our grievances will be formatted into a statement". In fact this utterance makes mockery of the statement that "He that is down needs fear no fall". How do they plan to defeat us? When we were in his opposition and Nana Addo Dankwa Akufo Addo vied for the seat against the incumbent, Owuraku Amofa who happens to be his cousin, the NPP trashed and mauled the NDC. The NDC has all the time been accusing the Nnipa Pa Party of being the cause of the bloated register of voters. But the arrest and conviction of its Parliamentary Candidate by a court of competent jurisdiction has exposed the party is the cause of such bloated register. It has exposed them as the cheats that they are. "Onyame ahu mo". [God has seen you] NDC preaches virtue while it practices vice. God is our judge. Now what does Tasman Osei Sammy have to say to that. Who is cheating who? The party should bow down her head in shame
Nothing could be better from the truth. "The moving forward" fever has caught up with Ghanaians and who ever does not join the band wagon will be shoved aside by the Holy Ghost fire. How come in the balloting to decide which party will pick the first slot to decide where the party will be placed on the ballot paper, the NPP picked the number one slot. And in the recently held presidential debate, the party again picked the first slot. And so whether you believe and like it or not, the handwriting is on the wall. NPP is heading towards a landslide with Nana Addo Dankwa Akufo Addo as captain.
And as for Abuakwa South constituency, I am offering free consultancy advice to Tashman and his NDC. They should withdraw honorably. We beat them when we were in opposition; we have beaten them over and over again. We are going to repeat the dose. This time we shall annihilate, infact we shall maul them on December 7, 2008.
It is pertinent to state at this juncture that, in our quest to acquire the Golden Fleece, Ghanaians must not sidetrack the moral aspects/issues that go with it. Sammy Osei Tashman, as an aspiring Member of Parliament owes the people of Abuakwa South Constituency and Ghanaians in general just that. Attempts should not be made to throw dust into people's eyes by fabricating lies to tarnish hard earned reputation of political opponents.
In conclusion let me re-iterate that no matter the vicious campaign and vilification the NDC will come up against our Presidential Candidate, Nana Addo Dankwa Akufo Addo and his Running Mate, Dr Mahammadu Bawumia, the people of Ghana know which of the candidates to trust and which of them will occupy the Flagstaff House, come January 7,2009.
Nana woye bue! Naa Nana, naa shuo. For sure, we are indeed moving forward.
Daniel Danquah Damptey
0243715297.