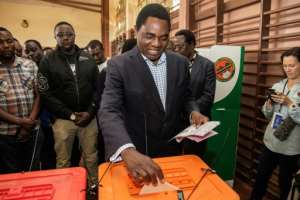 Zambian presidential candidate Hakainde Hichilema of main opposition party United Party for National Development, looks on after casting his ballot during the Zambian general elections on August 11, 2016. By Gianluigi Guercia (AFP/File)
Lusaka (AFP) - Zambia's opposition leader Hakainde Hichilema pleaded not guilty Thursday to unlawful assembly and sedition charges and was released on bail after spending a night in custody, his party said.
Hichilema, leader of United Party for National Development (UPND), is scheduled back in court later this month. If convicted he could face up to seven years in jail.
Hichilema was arrested on Wednesday along his vice-president Geoffrey Mwamba in the country's copperbelt region, after they attempted to visit party members detained in various prisons.
"UPND president Hakainde Hichilema and his vice- president Geoffrey Mwamba have not pleaded guilty on two different counts," the party said in a statement.
Luanshya Magistrate Court freed the two leaders on bail, ordering them to appear in court again on October 19.
The alleged unlawful assembly took place on September 26 in the central city of Mpongwe, in the heart of the mineral-rich province.
Earlier on Thursday, Hichilema posted on his Facebook page that the two had been denied food, water and blankets while in the police cells.
Hichilema, a wealthy businessman who has run five times for president, disputed the result of August polls which re-elected President Edgar Lungu.
He accused Lungu, the country's election commission and court judges of all being guilty of fraud over the August 11 election, which Lungu won by barely 100,000 votes.
He and Mwamba had last week been blocked from visiting their supporters in prison and had gone to meet their families instead.