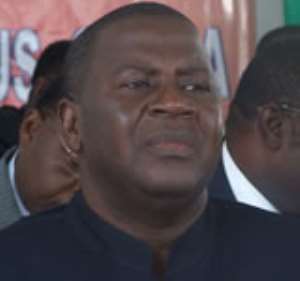 The Akufo-Addo campaign team has denied reports that Vice President Alhaji Aliu Mahama has been kicked out from the campaign team, following the brawl between an aide to the Vice President and the former Minister of Energy, Kofi Adda.
The brawl was said to have occurred on the dais, in the full glare of party supporters at a rally organised in honour of the NPP Vice Presidential hopeful, Dr. Mahamadu Bawumiah over the weekend.
Adda after the incident accused the Vice President of thwarting his efforts at retaining his Navrongo seat, evoking a long standing battle between the two personalities.
On Monday the Dr. Bawumia's campaign trail landed at Navrongo, with the conspicuous absence of the vice president, fuelling speculations he might have been blacklisted.
But a member of the campaign team told Joy News no such decision had been taken.
According to Arthur Kennedy, Head of Communications for the Akufo-Addo campaign, the Vice President is indispensable if the party expects to win the December poll.
He however explained that the Vice President has other duties to take care of.
"He is a sitting Vice President and there are times that his official duties might take him away from the campaign and that should not be misconstrued as he being sacked from the campaign team."
Arthur Kennedy condemned the brawl, adding, violence should not be tolerated no matter which party it took place.
Meanwhile, Dr. Bawumia has asked the people of Navrongo to vote massively for the NPP in order to continue the good works of the Kufuor administration.
Story by Nathan Gadugah