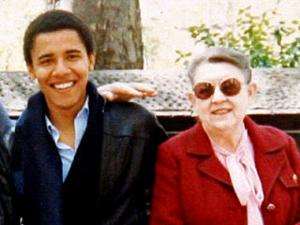 Barack Obama's 86-year-old grandmother has died, the presidential front-runner has said.
Mr Obama suspended his campaign for two days last month so he could travel to Hawaii to spend time with Madelyn Payne Dunham, who helped raise him, after her health deteriorated "to the point where her situation is very serious".
She died on Monday, one day before he could become the first black president of the United States.
Mrs Dunham died peacefully after a battle with cancer, Mr Obama said in a joint statement with his sister Maya Soetoro-Ng.
"She was the cornerstone of our family, and a woman of extraordinary accomplishment, strength, and humility," the Democratic presidential candidate said.
"She was the person who encouraged and allowed us to take chances."
The 47-year-old Illinois senator learned of her death on Monday morning while he was campaigning in Jacksonville, Florida.
He plans to go ahead with campaign appearances.