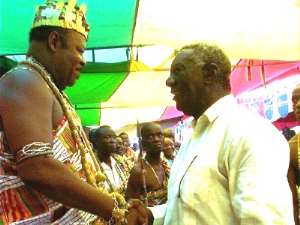 The Konor of Manya Krobo, Nene Sakite welcomes President Agyekum Kufuor
President J A Kufuor has called Ghanaians to vote for a person they think will be able to raise a competent team not only to sustain the gains so far made but also to continue with programmes that will complete the country's development agenda.
The President made the call when he addressed a colourful durbar of the chiefs and people of Manya Krobo to mark their annual Ngmayem Festival at Odumase-Krobo last Friday.
The event, which was in remembrance of long years of famine followed by bumper harvest experienced by the Manya Krobos about 400 years ago, was attended by a number of dignitaries, including the Eastern Regional Minister, Mr Kwadwo Affram Aseidu, his Deputy, Mr Ofosu Asamoah, and the flag bearer of the New Patriotic Party, Nana Addo Dankwa Akufo Addo.
According to the President, the government over the past seven-and-half years, has managed to revive the economy, which was on verge of collapse, and now that he will be leaving the political scene, it will be in the interest of the people to vote for someone capable of raising a competent team to continue with the good works of the government.
Earlier, the Konor of Manya Krobo, Nene Sakite, told the gathering that an educational fund has been set up to assist bright needy students in the area, adding that such an initiative will go a long way to address poverty.