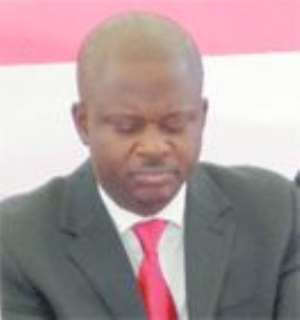 United Bank for Africa (UBA) Ghana Ltd is coming out with incentives to encourage the retention of inward remittances for productive use.
The bank's intervention is aimed at encouraging the shifting of such funds from the informal sector to the financial system and redirecting them into the productive sectors of the economy.
"We are committed to creating incentives that are needed to encourage the retention of these inward remittances within the financial system to make them available to productive sectors of the economy," the Chief Operating Officer of the bank, Mr Sanusi Mudasiru, said.
He said this during the inauguration of UBA MoneyGram Redshop, a concept that provides dedicated service to patrons of MoneyGram money transfer.
Currently, the bank has designated three of its branches which pay high values in MoneyGram remittances as Redshops. They are the Madina, Ring Road and Abossey-Okai branches.
The Redshop is a separate banking hall within its designated branch locations to solely carry out MoneyGram services.
Mr Mudasiru said the UBA-MoneyGram Redshop, which was being manned by well trained tellers, would guarantee stress-free transactions as it would be without long queues and ensure exceptional customer satisfaction.
He added that the widening of the bank's network was to enable customers to enjoy the innovative products and services that the bank was constantly churning out.
Mr Madasiru, who is also the acting Chief Executive Officer of the bank, said the bank was creating many incentives to spur the speedy growth of Moneygram transactions in the country and also to ensure maximum customer satisfaction.
The Executive Director of the bank, Mr Daniel Addo, assured the banking public of an improved service to consolidate the growing improvement in the banking industry.
Accordingly , the bank had extended its branch network from six to 16 throughout the country with a firm commitment to further extend its reach so as to get closer to the existing and potential customers.
Mr Addo said the launch of the bank's new corporate identity last year had enabled it to ride at the back of its parent company to develop more innovative products and services to the benefit of customers.