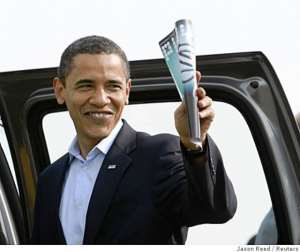 Democrat Barack Obama enters the final lap of his presidential bid with the chance to remake the nation's electoral map, with polls showing him leading in at least a half-dozen states that President Bush carried in 2004.
Republican John McCain hopes a last-minute shift by undecided voters could help him capture toss-up states like Florida, Ohio, Indiana, Missouri and North Carolina and reverse Obama's momentum in Virginia, Colorado, Nevada, New Mexico and Iowa.
With the exception of Pennsylvania, a traditionally Democratic state where McCain is making a last-ditch stand, the entire campaign is being fought on GOP turf. In a sign of the uphill climb McCain faces, even reliably red states such as Montana, Georgia and North Dakota are up for grabs.
Obama heads into election day in an enviable position: Democrats are flocking to the polls in huge numbers in early voting, especially African Americans. He has extensive get-out-the-vote operations even in GOP strongholds like Indiana. He has enough surplus cash that he's running last-minute TV ads in Arizona, McCain's home state, which would only turn blue in a shocking upset.
The McCain campaign still sees a path to victory, but it's a narrow one. He must hang on to both of the big swing states Bush won narrowly in 2000 and 2004 - Ohio and Florida - while avoiding losses in GOP bastions like Virginia, Indiana and North Carolina. He is playing for an upset victory in Pennsylvania - which backed Democrat John Kerry in 2004 and has 21 electoral votes - in case Obama wins one or more red states that are now leaning his way.
Swing states
In the RealClearPolitics' average of polls on Sunday, Obama was ahead, at least slightly, in most swing states: Colorado (5.5 percentage points), New Mexico (7.3), Nevada (5.8), Virginia (3.8), Pennsylvania (7), Florida (4.2), Ohio (4.2) and North Carolina (0.3). McCain had edges in Arizona (3.5 points), Georgia (3), Montana (3.8), Missouri (0.7) and Indiana (0.5).
The Obama camp is convinced it will hold all of the states Kerry won in 2004, including Pennsylvania, which would give the Illinois senator 252 electoral votes.
He would need just 18 more electoral votes to get to the 270 required to win. Obama's campaign has been built around a strategy of setting up several paths to victory - whether it's flipping a big state like Ohio or Florida, or stitching together wins in several smaller states.
A worrisome sign for McCain is the advantage Democrats are seeing in early voting, reversing an edge Bush enjoyed four years ago.
In North Carolina, 2.6 million people have already voted, with Democrats outpacing Republicans 51 percent to 31 percent, according to state figures.
In Colorado, where more than half of the vote may come in before election day, a recent Associated Press poll showed Obama leading 57 percent to 34 percent among early voters.
"We're getting some clues that Obama is doing very well among early voters," said Michael McDonald, an election expert at George Mason University whose Web site tracks early voting. "It becomes very difficult for McCain to make up ground on election day. ... He would have to get somewhere between 60 and 70 percent of the remaining vote to win some of these states. It would seem impossible."
McCain's hope
The McCain camp believes late-deciding voters will turn the race around. McCain's chief pollster, Bill McInturff, predicted last week that the roughly 8 percent of undecided voters would break sharply for the GOP nominee, giving McCain a net gain of three to four percentage points.
Pew Research Center's final pre-election survey, released Sunday, suggested that undecided voters would slightly favor McCain, which narrowed Obama's lead to 52 percent to 46 percent among likely voters in the poll. In 2004, late-deciders split in favor of Kerry, 52 percent to 47 percent, according to Pew's research.
"It has not been terribly decisive" in past elections, Carroll Doherty, the poll's associate director, said of the undecided vote. "Just look in 2004. It didn't carry John Kerry over the top even though most of the people who said they decided in the last week voted for him."
Obama's hope
Obama is hoping to ride a surge in African American turnout to victory in North Carolina, Virginia and possibly an upset in Georgia. About 2 million of Georgia's 5.6 million voters have cast early ballots, and 35 percent of them were black - a turnout bigger than African American's 29-percent share of the state's electorate.
Obama's biggest gains could come in the Mountain West, in states where demographic changes are making states more competitive for Democrats. In Nevada, Colorado and New Mexico, the Illinois senator is expected to win by big margins among Latinos.
He also has used his fundraising edge to outspend McCain 3-to-1 on television ads in Colorado in the campaign's final weeks.
Obama is also faring better than expected in Indiana, a state that hasn't voted for a Democrat since 1964 and that Bush won by 21 points in 2004. While the state tilts toward the GOP, Obama has set up 44 field offices, hired 200 paid staffers and visited the state 48 times since January. Polls show a tight race.
"I still think McCain may eke out a win, but not for lack of trying on Obama's part," said Robert Dion, a political scientist at the University of Evansville.
McCain backers are taking heart from some polls showing slight tightening in the race nationally and in a few battleground states.
Republicans seized on a recent Rasmussen poll suggesting that Obama had only a four-point lead in Pennsylvania, down from a seven-point edge three days earlier.
Governor's warning
The state's Democratic governor, Ed Rendell, has warned that Obama could lose if Democratic turnout isn't huge.
G. Terry Madonna, director of the Center for Politics and Public Affairs at Franklin and Marshall College who's been polling in Pennsylvania since 1992, said most state polls have shown Obama with a steady lead of 10 to 12 points for weeks.
The Democrat is outperforming McCain in the Philadelphia suburbs, a key swing area, and will get a boost from the 500,000 newly registered Democratic voters, he said.
"I've studied my state's politics for 35 years, and I've never seen anyone five days out come back from a 12-point deficit," said Madonna, whose Keystone State poll, released last week, showed Obama leading 51 percent to 39 percent. "If he wins the state, it will be historic."
BATTLEGROUND STATES
Florida
27 electoral votes
Republicans have had the edge in recent elections, but Barack Obama is hoping to ride a wave of support from Latino voters. Polls have shown it is even but moving toward Obama.
Pennsylvania
21 electoral votes
John McCain is making a big play for this state that Democrat John Kerry won in 2004. But Obama is ahead in the polls with a big edge in the Philadelphia suburbs, a key swing area.
Ohio
20 electoral votes
The race is still a toss-up, but the economic downturn has pushed it in Obama's direction. The 850,000 new voters registered this year could be the difference.
North Carolina
15 electoral votes
Bush beat Kerry in this state by 12 points four years ago, but Obama and McCain are running neck-and-neck. The size of the turnout by African Americans, who make up one-fifth of the population, could be decisive.
Virginia
13 electoral votes
President Bush won the state twice by 8 percentage points, but Obama has the lead. Obama is getting strong support from fast-growing suburbs in northern Virginia.
Indiana
11 electoral votes
Obama is going all-out to win Indiana, but McCain should have a slight edge in a state that hasn't
voted for a Democrat for president since 1964.
Missouri
11 electoral votes
This bellwether state has picked the winner in every presidential race but one since 1904. McCain held a lead until the economy nose-dived. The race is now even.
Colorado
9 electoral votes
Polls suggest that Obama is leading in early voting in Colorado. McCain is now the underdog in a state that is trending toward Democrats.
Nevada
5 electoral votes
Demographic shifts have helped Obama in this state, which is now one-quarter Latino. Recent polls show Obama with a lead of four to seven points.
Sources: Chronicle research, realclearpolitics.com
E-mail Zachary Coile at [email protected]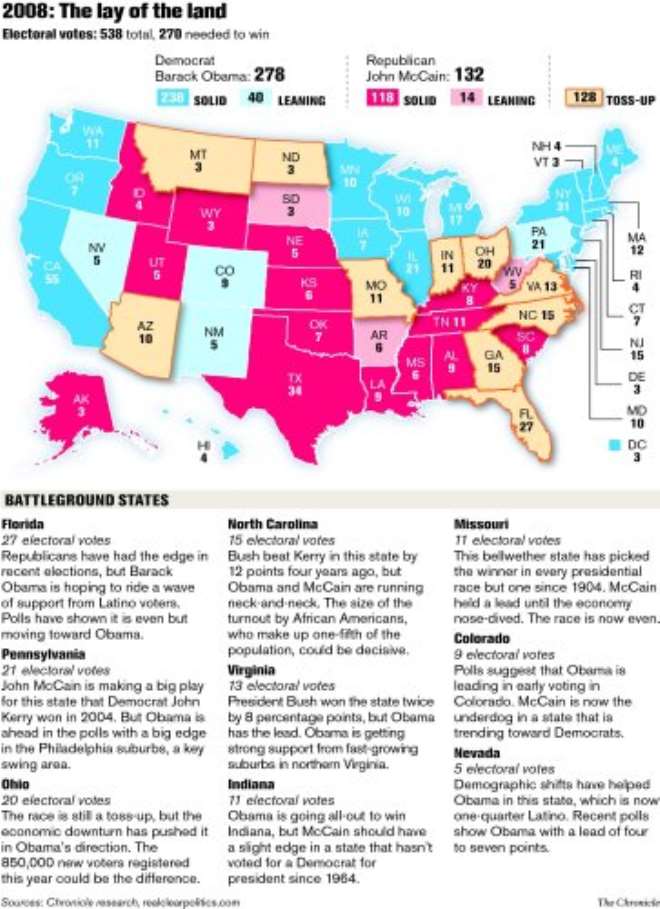 Democratic presidential nominee Barack Obama arrives in Columbus, Ohio, November 2, 2008. Jason Reed / Reuters (Jason Reed / Reuters)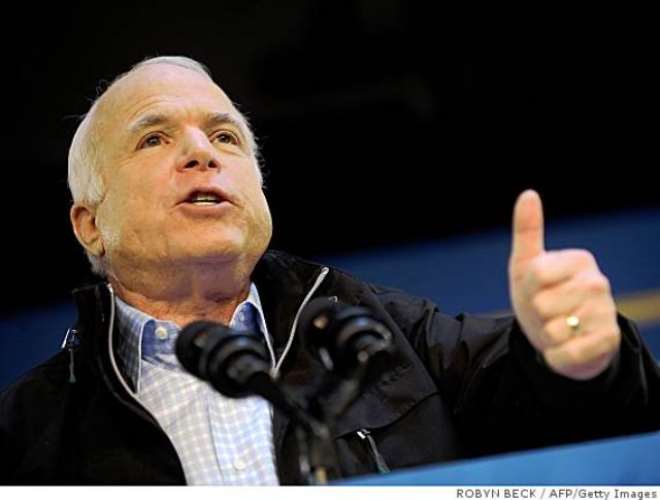 Republican presidential candidate John McCain speaks at a campaign rally at Strath Haven High School in Wallingford, Pennsylvania, on November 2, 2008. Robyn Beck / AFP / Getty Images (ROBYN BECK / AFP/Getty Images)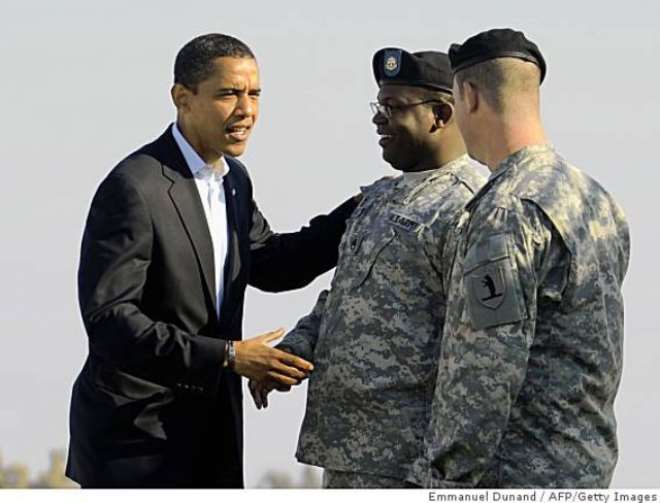 Democratic presidential candidate Barack Obama greets soldiers before boarding his campaign plane in Springfield, Missouri, on November 02, 2008. Emmanuel Dunand / AFP / Getty Images (Emmanuel Dunand / AFP/Getty Images)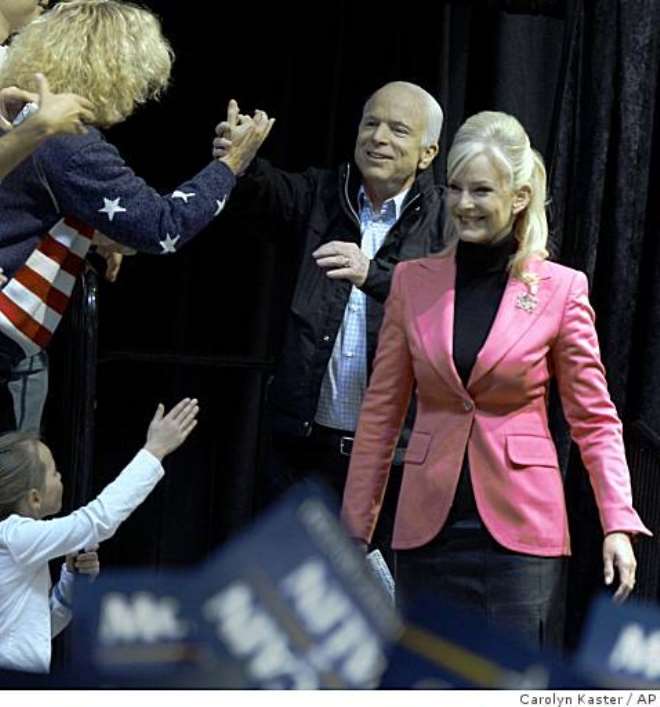 Republican presidential candidate Sen. John McCain, R-Ariz., and his wife Cindy McCain greet supporters as they enter a rally in Wallingford, Pa., Sunday, Nov. 2, 2008. Carolyn Kaster / Associated Press (Carolyn Kaster / AP)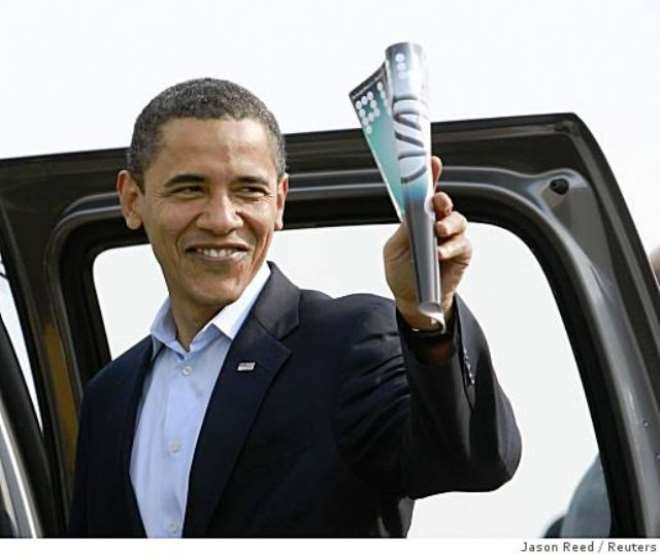 Democratic presidential nominee Barack Obama arrives in Columbus, Ohio, November 2, 2008. Jason Reed / Reuters (Jason Reed / Reuters)
Originating at www.sfgate.com