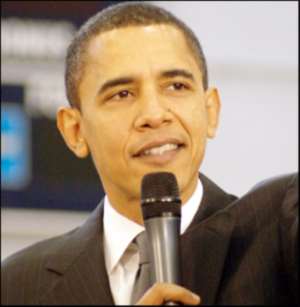 In the final hours of campaigning, Sen. Barack Obama is urging his supporters to "be my ambassadors" and "close the deal." "In these last three days, we can't afford to slow down or sit back or let up ... not now, not when there's so much at stake," Obama said at a late rally in Springfield, Missouri, his third stop on Saturday.
Sen. John McCain told voters Saturday afternoon that despite being down in the polls, "we're coming back."
"When I see this kind of support, when I see this momentum, when I see this great support, I know we're gong to win," he said in Perkasie, Pennsylvania.
McCain on Sunday was focusing on Pennsylvania, with rallies scheduled in Wallingford and Scranton. Following his Pennsylvania events, he was expected to travel to New Hampshire for a town hall meeting in Peterborough.
Obama leads McCain by 7 points in Pennsylvania, 51 to 44 percent, according to CNN's latest poll of polls. The state has 21 electoral votes at stake.
McCain and his running mate, Gov. Sarah Palin, have barnstormed the state in recent weeks. McCain's campaign has said it is buoyed by internal numbers not showing up in Pennsylvania's public polling.
In the past two presidential elections, Pennsylvania's pre-election polls showed more support for the Democratic candidates than they actually got on Election Day.
Obama on Sunday was focusing on Ohio, a state with 20 electoral votes.
The Democratic presidential candidate has events planned in Columbus, Cleveland and Cincinnati.
No Republican has won the White House without also winning in Ohio. CNN's most recent average of state polls there shows Obama up by 5 points, 49 to 44 percent.
Palin, the Republican VP nominee, was also in Ohio on Sunday, beginning her day in Canton. The city is in Stark County, an economically troubled area that narrowly voted for John Kerry four years ago while the state went to President Bush.
The Alaska governor was also expected to campaign in Marietta and Batavia.
Sen. Joe Biden, the Democratic vice presidential nominee, was back in Florida on Sunday, starting the day with a rally at Florida State University in Tallahassee. He was then to hold an event at the University of Florida in Gainesville before heading to Embry-Riddle Aeronautical University in Daytona Beach.
Also on Sunday, Obama's campaign released a new ad that continues the campaign's push to tie McCain to the current administration.
The 30-second ad highlights Vice President Dick Cheney's endorsement of McCain.
"And boy, did McCain earn it. He voted with Bush and Cheney 90 percent of the time," the announcer says of the endorsement. "And that's not the change we need."
Cheney endorsed the McCain-Palin ticket on Saturday, and Obama called attention to the move at his events Saturday.
"I'd like to congratulate Sen. McCain on this endorsement, because he really earned it. That endorsement didn't come easy," Obama said at a rally in Pueblo, Colorado.
He added that Cheney "knows that with John McCain, you get a twofer: George Bush's economic policy and Dick Cheney's foreign policy. And that is a risk the American people cannot afford to take."