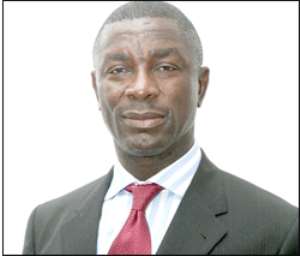 AFTER ACHIEVING a 1.7 percent marginal oversubscription, UT Financial Services will formally list its shares on the Ghana Stock Exchange (GSE) on November 21, 2008.
As a result, the indigenous firm which embarked on share floatation on September 22, will become the 19th most capitalized company on the Accra Bourse.
According to the statistics of the share floatation, local and individual institutions subscribed 99.53 percent of the share offer. Over 10,800 investors acquired the shares of the non-bank financial institution.
With regard to the amount raised, GH¢27.55 million, reflecting a 101.71 percentage point subscription was obtained.
This represents almost two times the total capital raised by all indigenous Ghanaian companies in the history of the GSE, excluding privatizations and secondary offers.  
Already, the Initial Public Offer (IPO) report has been submitted to the Securities and Exchange Commission (SEC) and thus the share certificates of all the applicants will be forwarded to the new shareholders from November 14.
Looking at the current turbulent financial environment where the credit crunch in developed countries was set to have a contagion effect on developing countries, officials of UT Financial Services expressed satisfaction with the public offer, adding that it has been successful.
Though a lot of foreign investors expressed interest in acquiring some of the shares, Opoku Gyamfi Boateng, Executive Director of Data Bank said his outfit could not give them all the preference, hence their inability to buy the shares.
Nevertheless, he said, the priority of the company was to get more local investor participation which it achieved.
When CITY & BUSINESS GUIDE asked Prince Kofi Amoabeng, Chief Executive Officer of the company whether UT was satisfied with the results, he answered in the affirmative saying "We are more than happy since we witnessed huge local investor participation."
Most analysts believe the listing of UT on the GSE will witness active trading on the stock market.
The IPO of the biggest non-financial institution which until recently was known as Unique Trust Financial Services, involved the sale of 90,293,000 ordinary shares of the company at 30 pesewas per share.
By Charles Nixon Yeboah