US rivals target knife-edge races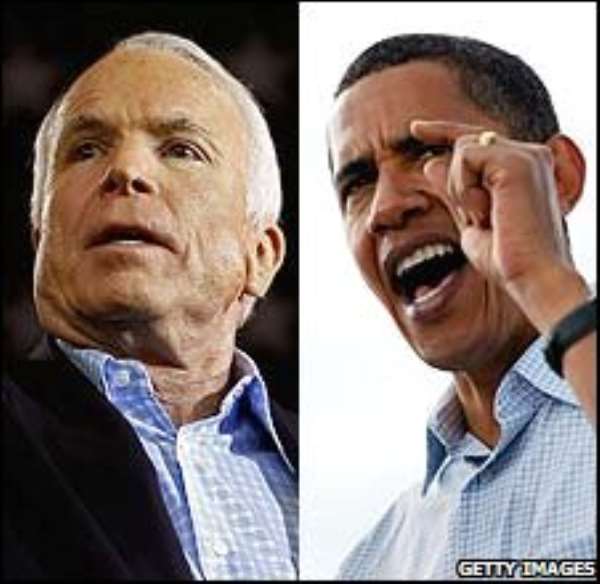 The US presidential candidates are focusing their efforts on key swing states on the penultimate day of campaigning in the White House race.
In Ohio, Democrat and front-runner Barack Obama urged voters to end "the politics that would divide a nation".
In Pennsylvania, Republican John McCain urged supporters to "knock on doors - with your help we can win".
Analysts say that to win the race, Mr McCain needs to win in Ohio while Mr Obama needs to take Pennsylvania.
Ohio, which narrowly voted Republican in 2004, carries 20 electoral votes under the system used in US presidential elections, making it one of the largest states where polls show the result could still go either way. Pennsylvania boasts 21 electoral votes and voted for the Democrats in 2004.
Despite more gloomy news from the opinion polls on Sunday, Mr McCain told supporters in Wallingford: "We are going to win in Pennsylvania, we are going to win this election - I sense it and I know it.
"We are going to win here and we are going to bring real change to Washington," Mr McCain added, in the first of two rallies in the state.
The BBC's Matthew Price, in Pennsylvania, says Mr McCain has been focusing on conservative Democrats, and independent-minded voters who live in economically depressed areas of the state.
The Arizona senator has appeared more relaxed and confident in recent days and his campaign believes he is staging something of a comeback.
But most polls suggest he may have left it too late, our correspondent says.
Earlier on Sunday, a CNN/Opinion Research Corporation national survey suggested Mr Obama had a seven-point (53%-46%) lead over Mr McCain in the race for the White House.
A Reuters/C-SPAN/Zogby poll saw Mr Obama increasing his lead by one point, leading Mr McCain by 50% to 44%.
'Sidekick, not maverick'
Rallying supporters in Columbus, Ohio - in the first of three speeches in the state on Sunday - Mr Obama said: "I have two words for you: Two days.
"In two days you can put an end to the politics that would divide a nation just to win an election."
And he hit out at Mr McCain's record on the economy, saying he had backed the policies of the Bush administration "all the way".
"He [McCain] hasn't been a maverick, he's been a sidekick," Mr Obama said.
Meanwhile, in a new TV advert broadcast on Sunday, the Obama campaign highlighted US Vice President Dick Cheney's endorsement of Mr McCain.
In the advert, an announcer says Mr McCain earned Mr Cheney's support by voting with the White House 90% of the time, adding: "That's not the change we need."
Crucial states
Both campaigns have thousands of volunteers working flat-out manning phone banks, handing out brochures and knocking on doors as election day approaches.
Mr Obama has warned against complacency and urged Democratic supporters to vote.
Yet the final weekend has already sprung a couple of surprises, one on each campaign so far.
On Saturday, it was revealed that Mr McCain's running mate Sarah Palin, the Governor of Alaska, had been duped by a prank call in which a Canadian radio presenter successfully convinced her for five minutes that he was French President Nicolas Sarkozy.
Meanwhile, it was reported that a Kenyan aunt of Mr Obama was living illegally in Boston, four years after an immigration judge rejected her request for asylum.
Mr Obama said he did not know his aunt, Zeituni Onyango, was in the country illegally, adding that the laws covering the situation should be followed.
Officials later launched an investigation into the leaking of Ms Onyango's immigration status, reports said.
The BBC's Justin Webb, in Washington, says that millions of Americans - perhaps a quarter of the total turnout -have already voted early, and that now the final rallies are in sight.
Some 130 million Americans are expected to cast a vote, in a higher turnout than in any election since 1960, our correspondent adds.
Source: BBC