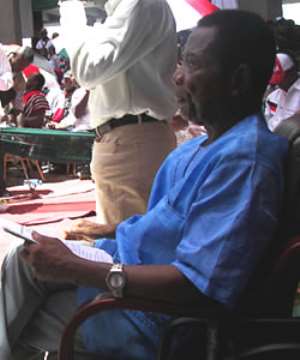 Mr. Dan Lartey, GCPP founder
The Leader and Founder of the Great Consolidated Popular Party (GCPP), Mr Daniel Lartey, says he is still in contention to become the President of Ghana by virtue of the general elections to be held on December 7, this year.
"So far as I am concerned I am still in the race because I cannot disappoint Ghanaians," he says.
Mr Lartey who stood as flag-bearer of the GCPP in the upcoming elections until his eventual disqualification by the Electoral Commission is fuming over what he says was unfair treatment meted out to him by the commission.
"I presented my cheque for GH¢5,000 and the required papers to the commission, but without even scrutinizing them, I was told I could not contest for the elections," he said.
According to Mr Lartey in order not to let Ghanaians feel let down he has consulted his lawyers and he shall be proceeding to court to rectify what he sees as an anomaly.
He said he had not been in court all this while because he believed there was a window of opportunity for settling the matter out of court. Unfortunately, he says, the EC has remained recalcitrant, necessitating a settlement in court.
The GCPP leader said he had been receiving calls from all over the world pressing him to pursue the matter in court so that he was exonerated and made eligible to contest in this year's general election. He said he had been receiving calls in particular from supporters in Canada and Australia who were determined to contribute their quota to his campaigns.
"The party's supporters are solidly behind me because they do not want to be disenfranchised. If their leader is disenfranchised, then it means they are also disenfranchised and I do not want that to happen to them," he said heatedly, as a frown transformed his countenance.
When pushed for his comments on the presidential debate organised by the Institute of Economic Affairs (IEA) last Wednesday, Mr Lartey said though he gives credit for their participation, none of the participants impressed him, since they were not able to tell Ghanaians how they were going to create wealth for the nation.
"They were all chasing after IMF and World Bank conditionalities which we all know have contributed to the country's impoverishment," he said.
He bemoaned the lack of convincing plans for future national development exhibited by the contestants, in view of the huge human, financial and natural resources that abound in the country for wealth creation.