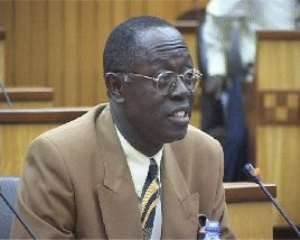 Former Interior Minister Kwamena Bartels has called for the strict implementation of laws regarding the accommodation and ejection of public servants in the country.
According to him, the practice where non MPs and ex-government appointees still occupied government residence even when they were out of office did not augur well for the country.
The Enquirer News paper had reported that ex-ministers and government appointees were still squatting at government bungalows several years after being sacked from office.
The paper named Jake Obetsebi Lamptey, Kofi Adda, and Kwamena Bartels all former ministers as some of the culprits.
Even though he could not immediately verify some of the names mentioned in the news paper, he maintained, that they be ejected if they did not comply with the law.
There was no reason for an ex-minister who is not an MP to stay in government bungalows he added.
He explained that he was still occupying his official residence even though he was axed from government, because he was still a member of parliament and was entitled to government accommodation.
Speaking on Joy Fm's News File via phone, Bartels rebutted earlier claims that he had forcefully ejected former appointees and Ministers of the previous government.
Earlier in the programme, former vice presidential candidate for the NDC, Alhaji Mohammed Mumuni had alleged that he was ejected with two weeks notice, from his official residence, into a private bungalow in Ashaiman provided for by Kwamena Bartels then the Works and hosing Minister.
Bartels insisted that he was gracious in complying to the laws by giving the ex ministers four months notice to vacate their residence instead of the stipulated three months.
He said private bungalows were rented for the MPs, who hitherto doubled as ministers of state in conformity to the law which stipulated that MPs were entitled to accommodation.
Having been denied similar alternative, Bartels noted, he was ready to quit his residence once his term of office as a parliamentarian ends in 2009.
Cobby Acheampong a member of the NDC bemoaned the practice where ministers had to be provided with residence once appointed into office.
He advocated for the increase in salaries of Ministers in order for them to provide their own accommodation.
Other panellists on the programme, including Editor in-Chief of the Crusading Guide News paper, Kweku Baako Jnr, Former Press Secretary to the President, Kwabena Adjapong and Susan Adu-Amankwaah Greater Accra Regional Chairman of the CPP demanded the strict compliance from Ministers and government appointees to prevent the recurrence of evictions.
Kwabena Adjapong advocated for the construction of duty post for all constituencies to be occupied by parliamentarians once elected into office.
Story by Nathan Gadugah