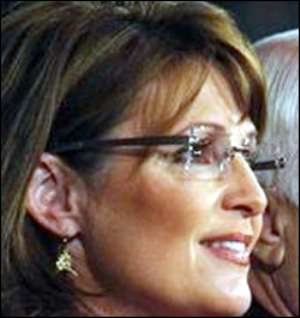 A former secretary of state and supporter of Republican presidential nominee John McCain says that McCain's running mate, Sarah Palin, isn't up to the task of taking over the presidency in a crisis but could become "adequate" if not "a genius in the job."
Then again, added Lawrence Eagleburger, several other vice presidents were also not ready. And he said he was confident that Palin, Alaska's governor, was tough enough if called to serve.
Eagleburger, who was secretary of state under President George H.W. Bush, has been cited frequently by McCain as one of several seasoned diplomats and former Cabinet members who back his presidential bid. McCain has pointed to them when asked about former Secretary of State Colin Powell's decision to endorse Democrat Barack Obama.
Asked Thursday on National Public Radio if he thought Palin would be ready to take over in a crisis, Eagleburger said, "Of course not."
"I don't think at the moment she is prepared to take over the brains of the presidency. I can name for you any number of other vice presidents who were not particularly up to it, either," Eagleburger said.
"So the question I think is, can she learn and would she be tough enough under the circumstances if she were asked to become president? Heaven forbid that that ever takes place," he said."Give her some time in the office and I think the answer would be, she will be adequate.
I can't say that she would be a genius in the job, but I think she would be enough to get us through a four-year — well, I hope not. ... Get us through whatever period of time was necessary, and I devoutly hope that it would never be tested."
Asked to respond to Eagleburger's remarks, McCain said he wasn't troubled by them.