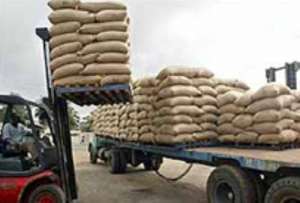 Four people including two military men who hijacked truck load of cocoa beans and stole the beans have been arrested by the Nsawam police.
The cocoa beans were being transported from Kassi near Kumasi to the Tema harbour.
The suspects are Bright Osei, 22, Ankama Dutra, 25 both of the Field Engineers Regiment and Central Band respectively of the Ghana Armed Forces. They were arrested on Thursday.
The others are Kofi Oppong, 25 and George Baah, 40 both Produce Buying Company Depot manager, who were arrested on Monday.
These were disclosed by the Divisional Police Commander of Kibi in the Eastern Region, Owiredu Nkansah, at press briefing here yesterday.
He said at about 9 pm on Monday an articulated truck with registration number GT 43502 which was loaded with 600 bags of cocoa beans, property of Ghana Cocoa Board was hijacked by some men in military clothing at a village near Asuboi on the Suhum Accra Highway.
He said two of the hijackers handcuffed the driver, Emmanuel Tetteh and his two mates and demanded the documents covering the goods because they were stolen goods.
He said the men put the driver and his mates in an unidentified vehicle and drove them to an unknown destination and dumped them in a bush near Nkawkaw.
The Police Commander said the driver and his mate, still in handcuff walked to the Nkawkaw Police Station to narrate their ordeal.
It was at the police station that their handcuffs were removed and they were given a note to take to the Nsawam police.
Police Commander Owiredu Nkansah said the men sold the cocoa beans to two cocoa buying companies at Mepom and Asuboi.
The companies are Evados Cocoa Buying Company and Diaby Cocoa Buying Company respectively.
The Police were alerted about the case and investigations led to the arrest of the military men and the depot managers.
Police Commander Owiredu-Nkansah said the men were arrested when they went for the last installment of payments for the beans.
He said the men were using a Ford Explorer 4X4 vehicle with registration number 0562392.
Police Commander Owiredu-Nkansah said the Police have retrieved 575 bags of the cocoa beans.