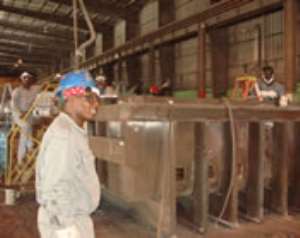 Work in progress at Valco
Members of Parliament are once again on a collision course over the intended 70 per cent sale of government shares in the Volta Aluminium company (VALCO).
The deal valued at $175 million is aimed at boosting the aluminium industry in the country, but first needs parliamentary ratification.
Similar to the GT/Vodafone deal, the minority in parliament have raised serious objections to the sale, accusing government of trying to bulldoze its way without due diligence.
To complicate an already controversial sale, parliament has only eleven days to go on recess.
Haruna Iddrisu, MP for Tamale South in an interview with Joy News' Evans Mensah cited a clause in the sales agreement mandating the Volta River Authority to make power available to VALCO, something he claimed would not be in the interest of the nation.
According to him, the country was on the verge of experiencing another energy crisis if the deal was allowed to go through.
Haruna Iddrisu also called for an independent valuation of the assets of VALCO before carrying out with the sale.
"It is not for government to determine the value of VALCO, there must be independent valuation", he charged.
In response, Hon. Felix Owusu Agyapong, Minister of Energy says the minority's criticisms are misplaced and accused the minority of double standards.
"A year-and-half ago government decided to purchase 90% of shares in Valco. At that time people were telling government it was taking a bad decision throwing good money away. And quite recently government bought another 10% for $2 million making a total cost of $20 million. It is this we are selling 70% for 175 million. So only on that alone Government has done a good buy and sell."
"Ghana was not the owner of Valco, it was the NPP that made Ghana the owner of Valco if we are selling it at that price it is a bonus for Ghana."
According to him, there were other benefits such as the construction of railway lines from Accra to Kumasi, mining of Kibi bauxite and other benefits the nation would accrue from the sale.
He also dismissed claims that the sales agreement, if ratified would jeopardize the provision of energy to the country.
Listen to the interviews with Haruna Iddrisu and the Owusu Agyapong in the attached audio.
Story by Nathan Gadugah