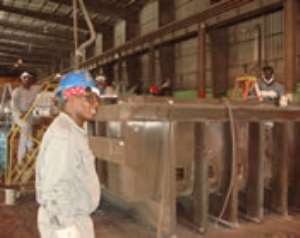 The largest Minority National Democratic Congress (NDC) on Friday asked the Government of Ghana to suspend the agreement for the proposed sale and purchase of 70 per cent issued and fully paid up shares of the Volta Aluminium Company Limited (VALCO).
The suspension, the NDC said in a release, is to allow for a proper determination of the financial worth of the company by an independent valuer.
Under the present agreement, there is a proposal to consider the sale and purchase of 70 per cent of the issued and fully paid shares of VALCO for US$175.5 million.
Signed by Mr. Haruna Iddrisu, Minority Spokesperson on Communications, the release expressed the concern of the Minority about the clarity and effect of certain provisions of the agreement, which the Minority viewed as inimical to the economic interest of the country and sustenance of the Volta River Authority (VRA) and the future of the aluminium industry in Ghana.
The release referred to Memorandum to Parliament on the Agreement, which obliged the VALCO to enter into a binding and irrevocable Power Purchase Agreement/ Electricity Supply Agreement with the VRA, which should also deliver a certain quantum of power based on certain thresholds in term of tonnes of aluminium for a period of four years.
The Memorandum, the release said also referred to the terms of agreement for a consortium to make an initial payment of US$25 million within 15 working days from the execution of agreement and upon approval of the agreement by Parliament.
The outstanding amount of US$150.5 million is to be paid within 45 working days after the VALCO smelter has commenced production with two pot lines in normal operation, the execution of the transfer of shares by the Government, shareholders agreement between the shareholders of the company and the delivery of the share certificate signed by VALCO in favour of the consortium.
The Minority said it viewed the building of consensus on "this major economic decision as imperative and the way forward for national cohesion and peaceful development of the country.
"The indecent haste with which the government wants to push away this very important transaction at the last days of this Parliament and the Administration is mind-bugling," the release added.
Meanwhile, Mr Abraham Ossei Aidooh, Majority Leader has announced that the date for Parliament to rise has been rescheduled from Friday November 7, 2008 to Tuesday November 11, 2008.