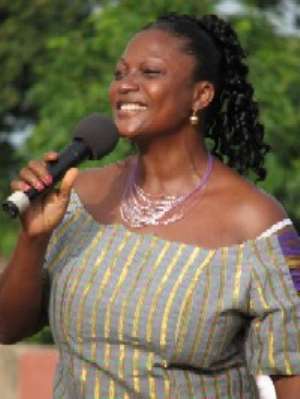 A fresh vibrant lady in Bole-Bamboi, Northern Ghana , Otiko Afisah Chrissie Djaba is the Parliamentary candidate for the New Patriotic Party for the Bole-Bamboi constituency in the forthcoming elections in Ghana on 7 December 2008.
Otiko Afisah Djaba is 46 years old, vibrant, dynamic, innovative and with fresh ideas to help propel her constituency forward. She is a strong resilient individual who believes in equality for all and an advocate for more women in politics, the right to education for all and above all believes in Ghana. She has worked in the political sphere for a couple years with Ghana Vice President Hon. Alui Mahama is inching to the forefront of politics where she belongs. She has worked with women's groups and children in her constituency for the past 10 years.
Background
Otiko Djaba received her formative education in Ghana. She attended Tamale Secondary School followed by sixth form at Rye St Anthony Girl's School (Headington Oxford- U.K) from 1978 to 1980. After sixth form, she obtained a diploma in secretarial studies at Queen's Secretarial College ( London , U.K), from Oct 1980 to Oct 1981, followed by a certificate in marketing at the Institute of Marketing ( London- U.K), from 1981 to 1983. She acquired a Certificate in Information Technology- Women in I.T and a Diploma in Systems Analysis- Computer Sciences.
Otiko is studying at the University of Development Studies for a Bachelor's Degree in Arts.
She has been the Personal Assistant to the Vice President. Hon. Aliu Mahama. She is a communications consultant and a development practitioner. She is the Founder and Chief Executive Officer 2002 of Miidan Educational Trust (NGO).
Consultant on the Rights of Children since 2003.
Producer/Director of Kokrokoo (An innovative children's nation-wide Television Programme) from 1998 to 2002.
She has been involved in a political campaigning over the past 2 years and is keen to bring about change in her area. The past MP, John Mahama (current vice-presidential candidate was the MP for 16 years).
Otiko Djaba's achievements in her constituency
Otiko has sought to make a difference in the lives of impoverished in her constituency. She has been relentless in her quest to provide education and training and empowering the women and youth by embarking on worthwhile projects.
She has travelled widely with Ghanaian children to Australia and the United States, giving them encouragement to achieve their potential and recognise their rights.
Provided personal funding for the education of several children and youth at secondary and tertiary levels of their education.
Established women's income generating groups in Bole - Bamboi.
Created popular children's television programme, Kokrokoo at GBC - Ghana Broadcasting Corporation
Founded Miidan Productions 1998 and Miidan Educational Trust (2002).
Concept originator of Rights of Children's Project in Ghana.
Extended branches of Miidan Educational Trust from Tumu to Wa and Bole in the Upper West and Northern Regions of Ghana.
Established 58 Rights of Children's Clubs in the Sissala Districts, 40 in the Wa Districts and 168 in the Bole-Bamboi Constituency with a membership of over 10,000 children and youth .
Trained children and youth as advocates on the rights of children on television.
The first person to take rural and deprived children on a visit to the President of Ghana and Parliament to interact and present the situation of children in the Sissala Districts.
Consultant (at the castle) Office of the Vice President of Ghana to facilitate The Campaign for Greater Discipline.
Creator of Whatzup? Let's Talk TV Programme to discuss issues of children and youth in the Sissala Districts.
First person to introduce the Sissali dialect on GTV nationwide.
Creation of Voices of Children for radio (Radio Upper West).
Training and sending children from very remote and rural communities in the Sissala Districts to participate in various fora on media and child participation in Australia, Geneva and Mali.
Initiator and facilitator of the establishment of the first ever radio station in Tumu.
Creator/producer/director & hostess of Movers and Shapers television show on GTV
Unifier of factions and a propensity for organising people, activities, events and programs
She speaks at least 6 Ghanaian languages and various other dialects.
For further information, interviews or list of events and campaign schedule, please contact Otiko at
email: [email protected] or [email protected]
Telephone or text messages: 00 233 208 123 263
Her constituency suffered floods last year and this year - the residents would greatly appreciate any offers of support such as second-hand clothes, books, education materials, gari processing equipment, donations.
By Ms Ama Djaba and Ama K. Abebrese, London. [email protected]
source: www.otiko-afisa-djaba.com
" Endurance is the spirit which can bear things, not simply with resignation, but with blazing hope. It is a quality which keeps a person on their feet with their face to the wind. It is the virtue which can transmute the hardest trial into glory because beyond the pain, it sees the goal.". Author Unknown