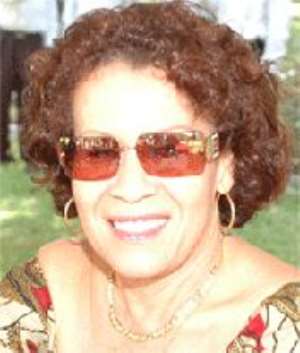 Yvonne Nduom, the wife of Dr Paa Kwesi Nduom, the presidential candidate of the Convention People's Party (CPP), has said her husband believes in strong family values and abhorred deceit.
She said she would support her husband to work towards ensuring that every Ghanaian had a decent job.
Mrs Nduom said this when she briefed the press after completing her tour of the Volta Regional last Sunday.
She urged churches that had decided to hold service on Sunday, December 7 to impress upon their congregation to either vote before church or immediately after church, saying "you don't need to have this opportunity slipped by".
She quoted Scripture, which says, "Give unto Caesar what is Caesar's and to God what is God's", and urged Ghanaians to exercise their rights by voting in their numbers for Dr Paa Nduom.
"We should know that when we stay away from voting for the right person, we allow other people to choose a leader to govern us.
This is the time to vote for the right person to transform your expectations."
Mrs Nduom, who had earlier toured Keta and Ketu districts, said Ghana now needed a leader with the sense of urgency and compassion to move the country to what she described as the 'dream land'.
Mrs Nduom gave a message of peace to the congregations and assured them that her husband and the CPP were committed to peaceful elections in this December.
"We should all know that the CPP and Kwame Nkrumah toiled to gain independence for Ghana, and the party will not encourage its followers to disrupt the peace that we currently enjoy," she said.
She reminded Ghanaians that the song "Yen ara assase ne" should serve as a reminder that the beautiful land our fathers toiled and shed their blood on was meant for Ghanaians to enjoy and live on it peacefully.
She told the gathering that Ghana was a blessed nation and deserved peace and prosperity, stressing that that could be attained if Christians listened to the messages of all the aspirants and voted for a message that transcended their expectations.
Special prayers were said for the CPP, the entourage and the nation as a whole for peaceful elections.
Right after church service, Mrs Nduom was whisked away by students of Ho Polytechnic, who were waiting on the church premises, upon hearing that the aspiring First Lady was in Ho.
Story by Timothy Gobah