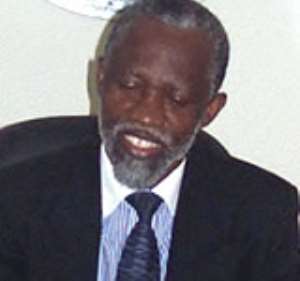 The national vision in the Fourth Republic is commendable but it requires review, says the Rector of GIMPA, Professor Stephen Adei.
"The picture of a middle income economy by 2015, characterized by a Gross National Income per capita of $1,000 does not capture the aspirations of ordinary Ghanaians and even corporate Ghana," he said.
Prof. Adei made this observation when he spoke on the topic: 'Buying into a New Corporate Vision for Ghana' during the 2008 Chartered Institute of Marketing, Ghana (CIMG) Annual Strategic Marketing Conference.
"Having $1,000 is practicable, especially with the prospects of oil, as it requires only eight percent of growth per annum and even if it makes one middle income statistically, it does not necessarily deliver middle income economy," he said.
He explained that a middle income economy must be characterized by universal and quality primary education with over 80 percent children successfully going through the second cycle; between 15-25 percent relevant age cohort being in tertiary schools; a working and adequate social infrastructure and improved national competitiveness, as well as a corporate world class indigenous and competitive companies.
Currently, the World Bank estimates that the gross primary enrollment as a percentage of the total age group is 88 percent, while primary completion rate as a percentage of the total age group is 72 percent.
Gross secondary enrollment is 44 percent of the total age group and gross tertiary enrollment constitutes five percent of the total age group.
Prof. Adei said; "Ghanaian politicians have been successful, over the years, in co-opting business houses to be pro one government or the other and in turn destroyed one segment of business after another with each change of regime until recently."
He explained that, consequently, corporate Ghana has not developed its vision which it lobbies government, to back by policy, to improve national competitiveness and good business climate, and that only the financial sector seems to be breaking through now.
"While the principal catalyst and owners of a credible national vision are the political and bureaucratic leaders, corporate Ghana has a three-fold role."
"Corporate Ghana must catalyze the development of the national vision and buy-in; it must, within the national vision, carve its own corporate vision; and at the organizational level develop company and institutional vision," Prof. Adei said.