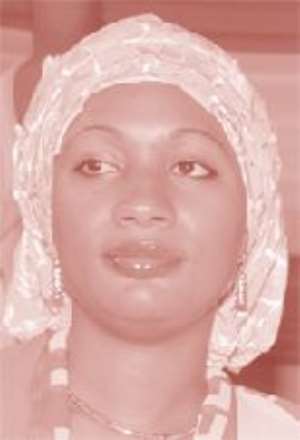 Samira Bawumia, wife of the New Patriotic Party (NPP) running mate, Dr Mahamadu Bawumia, has said the NPP administration has done well for Ghanaian women and, therefore, needs to be voted for again.
She mentioned the School Feeding Programme, the Free Bus Ride for pupils, free ante-natal care, National Health Insurance Scheme (NHIS) Capitation Grant, among others as some of mother-friendly programmes of the NPP as well as the promise by Nana Akufo- Addo to add to these by making education at the senior high school fee-free.
"As mothers, we used to agonise about the education of our children before the advent of the NPP administration in 2000.
With the introduction of free education to the junior high school (JHS) level, moneys that would have been paid for school fees can now be redirected elsewhere," she added.
Mrs Bawumia stated this when she inaugurated the Krowor Constituency branch of the Akufo-Addo Fan Club in Accra.
"In addition to this, Nana Akufo-Addo has indicated his readiness to expand the School Feeding Programme to include all public schools, thereby giving further relief to parents.
This will alleviate the plight of women, many of whom are the breadwinners in their homes," she added.
She said an Akufo-Addo Presidency would ensure that women had free access to maternal and post-natal care. This way, the number of maternal deaths would be reduced.
"Just as the Kufuor administration has been gender sensitive, the Akufo- Addo administration will do more in this direction for women who constitute more than half of the population of Ghana," Mrs Bawumia said.
She urged the NPP supporters to campaign for the party's presidential candidate, Nana Akufo-Addo, and the Parliamentary candidate for Krowor, Nii Ayikoi Otoo, to ensure the continuation of the party's development agenda.
The Parliamentary candidate for Krowor, Nii Otoo, expressed satisfaction with the keen interest expressed by individuals in the constituency to take it upon themselves to canvass for votes for him and Nana Akufo- Addo.
" It is a testament to the good work that the NPP has done since its assumption of office in 2000.
 Actions such as these are an indication of the NPP's imminent victory in the December polls," he added.
Story by Donald Ato Dapatem