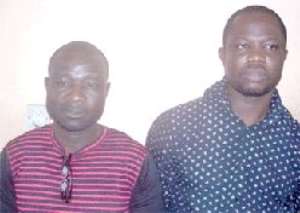 One of the three suspected visa connection men who were declared wanted by an Accra circuit court for allegedly defrauding a number of people of thousands of Ghana cedis on the pretext of securing them visas to travel abroad has been arrested.
The alleged principal architect, Kofi Boateng, alias Francis Fofie, was arrested at Achimota last Friday after the Daily Graphic had published his picture, along with those of the two others in its Thursday, October 24, 2008 edition that they had jumped bail.
Another person, Abraham Boateng, who is said to be an accomplice of the suspect, was also arrested.
The two other suspects, Alex Appiah Danquah and Nana Boakye, are still on the run.
A source at the Criminal Investigations Department (CID) of the Ghana Police Service told the Daily Graphic that Kofi Boateng, who was based in Italy, allegedly offered to procure visas for his victims to travel to Italy in February and April 2007.
It said Kofi's accomplice, Abraham Boateng, collected the money from prospective visa seekers and handed it over to Kofi.
The source said following investigations into the case after two of the victims had lodged a complaint, Abraham Boateng was arrested at Teshie in April 2008.
It said the suspect allegedly admitted receiving the money on behalf of Kofi Boateng and was subsequently admitted to police enquiry bail and asked to report himself periodically to the police.
"However, since the day he was admitted to bail Abraham has failed to report himself to the police as instructed," it added.
According to the source, some time in August this year the police had information that Kofi Boateng had returned from Italy and that he was being harboured by Abraham.
It said the police arrested Kofi Boateng at his hideout at Teshie and he allegedly admitted during interrogations that after collecting the money, he had to return to Italy.
It said the suspect then informed the police that he (Kofi Boateng) had brought a VW Golf car to sell, after which he would refund the money to the complainants.
The source said Kofi Boateng pleaded with the police to grant him bail to enable him to dispose of the car in order to refund the money to the complainants.
It said the car, which was then in the custody of the police, was released to Kofi Boateng to dispose of, but ever since he was granted bail he had failed to report to the police and also switched off his mobile phone.
It said Abraham Boateng was spotted at the Cocoa Affairs Court on October 24, 2008 and was arrested. He later led the police to arrest Kofi Boateng at Achimota.
The source said the two suspects would be charged for conspiracy to commit crime and defrauding by false pretences.
Story by Albert K. Salia