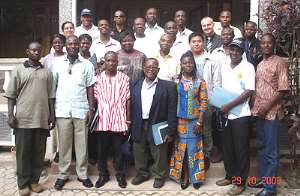 A group photograph of project managers and staff members of IICD
A one-day workshop was yesterday organised at Tamale in the Northern Region for project managers and staff members of the International Institute for Communication and Development (IICD) Ghana country programme partners, an NGO based in the Netherlands in collaboration with Ghana Information and knowledge Sharing (GINKS), a Ghanaian Non-government organisation (NGO).
The workshop was aimed at providing the participants the opportunity to share experience, information and knowledge gained in the process of implementing ICT projects and programmes in 2007 and 2008.
Contributing to the discussions, the IICD country manager for Ghana and Zambia, Mr Olaf Erz urged the Community Information Centre CIC) managers to seek support in terms of administration and finance from the District Authorities for their daily activities to enhance the CICs.
He was of the view that inaccessibility to ICT does not help one to get acquainted and to appreciate ICT for community development.
Mr Erz therefore suggested that training sessions for district officials, civil servants and community members be conducted regularly so that they can use the acquired ICT knowledge and skills for their daily work and activities.
Mr A D Koblavie, Deputy Director in charge of ICT at the Ministry of Information and National Orientation (MINO) called on CIC managers to collaborate with District Information Officers (DIOs) in the process of information dissemination. He laid much emphasis on the development and management of local content since that will be of great benefit to the citizens.
The Moderator of the workshop Mr Ibrahim Inusah urged the CIC managers to take their work seriously so that it can contribute to the improvement of the lives of members of the community.