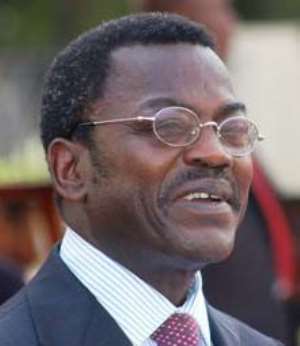 The effect of the global financial crisis on the Ghanaian financial sector is limited, Governor of the Central Bank and Chairman of the Monetary Policy Committee of the Bank, Dr. Paul Acquah, assured yesterday.
Briefing journalists on the Committee's bi-monthly review, the Governor noted that one possible exposure of the banks is through their investments abroad, but the Central Bank's assessment shows that the local banks' investments abroad are within internationally acceptable prudential limits and, moreover, the banks have made such investments with reputable financial institutions.
He added that a measure of the banking industry's foreign exchange risk remains low, while outstanding external borrowing by banks as a source of funding their activities is less than five percent of total bank funding requirements.
"Since banks predominantly rely on domestic deposits, and only external borrowings in excess of 50 percent of the current levels of borrowing would have material impact in exceptional circumstances on capital adequacy ratios, the banking system is not exposed to the crisis.
"A freeze on lending by foreign financial institutions to our banks was also beginning of the year to end September, from 4,291 points at the beginning of the year to 10,890.8 points at the end of September.
This compares with an increase of 13.4 percent in the first nine months of last year and 3.7 percent for the same period in 2006.
Total market capitalisation also increased significantly by 46.5 percent to GH¢18,120.7 million in the first nine months of the year.
Apart from the western nations, which have been hard hit by the financial crisis to the extent that their economies have entered into a recession described as the worst since the great depression, a number of emerging market countries in Asia and Latin America have also been affected by the contagion.
The channels of impact on these economies have been through capital flows, reduction in funding for current account deficits, and exposure of their banking systems to globally and internationally active banks.
Reviewing the possible channels of transmission of the crisis to the domestic environment over the medium to long-term, the Governor said one major channel is the commodities market, as aggregate demand slows down with the global recession.
"Falling cocoa and gold' prices on the international market, as well as other major export products, are taking away some gains from the local economy. However, a similar plight being suffered by crude oil prices - currently trading at below US$62 per barrel - is making up for the losses," Dr. Acquah pointed out.
He said there is also a tightening of donor flows and remittances, which has implications . for domestic economic growth.
The current assessment of the economy by the Committee points to sustained pace of economic activity with strong export growth to the end of the year, which is expected to turn out a Gross Domestic Product growth of 6.6 percent.