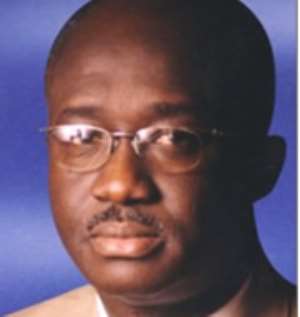 Joseph Kofi Adda, incumbent MP for Navrongo-Central
A representative of Navro-Pio Dr Ben Adda, the Paramount Chief of the Navrongo Traditional Area, is campaigning against the re-election of Joseph Kofi Adda as the Member of Parliament for Navrongo-Central in the Upper East Region.
Arthur Belania Adda accused Mr. Kofi Adda of showing disrespect to the Navrongo Traditional Council over the years as an MP and could no longer represent the people.
He said apart from the incumbent MP, who is a former Minister of Energy, he would be comfortable to work with any other candidate.
"He said apart from the incumbent MP, the people are free to choose any of the other candidates to represent them in parliament," Joy FM's correspondent in the area, Godwin Narh says.
The Chief therefore pledged his support for Mr Mark Woyongo, the National Democratic Congress parliamentary candidate for the Navrongo Central constituency, when the latter paid a courtesy call on him on Monday.
The Chief is urging the other chiefs to do same and asked that Mr. Kofi Adda should not be allowed to campaign.
He also blamed the underdevelopment of the area on Mr Kofi Adda and asked his people to make sure the MP is not returned to Parliament next year.
Mr Mark Woyongo pledged to work with the chiefs and the people to bring development to the area.
He said the area was wasting its human resource base due to the fallen standard of education and promised to establish an education fund to support needy but brilliant children.
The NDC Parliamentary candidate called for peaceful elections and charged the constituents to make the unity of the area their priority.
Story by Isaac Essel