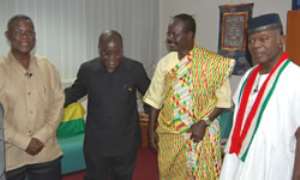 The four presidential candidates who faced off this evening
The first of two Presidential Debates for four candidates of parties with representation in Parliament gets underway this evening at the Kofi Annan ICT Centre of Excellence.
Nana Akufo-Addo of the New Patriotic Party, Dr. Edward Mahama of the People's National Convention, Prof John Evans Atta Mills of the National Democratic Congress and Dr. Paa Kwesi Nduom, of the Convention People's Party will square off in a test of wits and will at the forum organized by the Institute of Economic Affairs, IEA, with the support of Joy FM and the Ghana Broadcasting Corporation.
Moderators Cyril Acolatse and Prof. Kwame Karikari, two seasoned journalists, are to take the candidates through four grueling rounds of tough questioning.
Joy FM will carry the debate live, and you can also follow our live updates here. It starts at 6:45
The second round of the debate is scheduled for November 12 in Tamale.
Live updates here
Ahead of the crunch presidential debate between the forerunners in this year's elections, a member of the Democratic Freedom Party is seeking a declaration from the courts to stop the IEA from continuing with the debate.
Mr. Kweku Baah sought the High Court to restrain the IEA and its agents from holding the debate.
But the IEA say they have not been served with any writ and therefore are going ahead with the planned debate.
A law lecturer at the Kwame Nkrumah University of Science and Technology, says if the court has any cause to believe that Mr Baah is just seeking to frustrate the programme, it may not grant the reliefs sought.
The DFP and other political parties which have no representation in Parliament are excluded from the debate.
That exclusion must have informed Mr. Baah's decision to initiate the action to stop the debate.
Analysts believe the second debate slated for November 12 at Kanvili in the Northern Regional capital, Tamale, could run into difficulties if Mr. Baah sticks to his guns to stop the debate.
Justifying, his action, Mr. Baah told Joy News' Evans Mensah that although the IEA was an autonomous body, it operated in Ghana and ought to abide by the country's laws.
Meanwhile Joy FM's Akwasi Sarpong and Karl Tuffuor say the Kofi Annan ICT Centre, venue for the debate is buzzing with activity.
6:50pm: Several persons unaccredited to attend the event attempt to push their way through but meet security resistance.
6:55pm: All candidates seated and ready to go;
7:00pm: Prayers said to open the programme.
7:02pm: The Alabastar Box, a musical acapella quartet sings the National Anthem.
7:05pm: This debate is historic says Jean Mensah, Administrator of the IEA.
7:08pm: Cardinal Appiah Turkson, Chairman for the occasion urges candidates to do their utmost.
7:10pm: Candidates shake hands.
7:12pm: Chairman of the debate Cardinal Appiah Turkson welcomes candidates. He hopes debate will inform electorate to make informed choices. Thanks candidates for accepting invitation
7:15pm: Oscar Provencal, announcer for the debate spells out rules of engagement.
7:18pm: Nana Addo takes first question on the economy.
7:20pm: What will you do to create jobs?
7:20pm: Double police force from 25,000 to 50,000, support small and medium scale enterprises. Establish fund to help companies access fund to establish business, reduce tax burden, major industrial project of oil exploration.
7:22pm: What will you do to take headporters (Kayayei) off the streets?
Ans: Apprenticeship to enhance their capacity
7:25pm: Dr. Nduom addresses question
will use state purchasing power to buy what is produced in the country. Create market in Ghana for people who invest in the country, build roads, bring back the jute factory to produce sacks for Ghana's cocoa
7:26pm: What will be attitude to buy and sell?
Ans: Buy and sell is not bad if it involves what is produced in the country
7:28pm: Prof. Mills addresses question: Private sector and agriculture collapsed and need to be supported, graduate unemployment should be addressed and quality of education reviewed.
7:30pm: Private sector is crying for help, political atmosphere so polluted that people just fold arms and just import, not good and should be reversed.
7:32pm: Dr. Edward Mahama addresses question: Cocoa farmers have market so they are producing, Ghana must industrialize, Ghana is still exporting raw cocoa beans, value addition needed to create jobs, Oil resources must be used to energise agric sector, tackle post harvest losses.
7:34pm: Ghana has found oil in commercial quantities what do you intend to do if elected into office
Nduom starts with an answer
7:35pm: Oil Money : Nduom: If the oil is not going to benefit Ghanaians "then it must stay on the ground".
He is not happy that other resources in Ghana have not been exploited to the benefit of the local people.
To stop the case of what is happening in Nigeria Niger Delta, communities around such resources would be rebuilt and give them a befitting outlook. Parliament would pass a law to prevent the executive from deciding how the money is used says Nduom.
7:38pm: Prof. Mills: It is by God's blessing that we have oil and not anyone's good deeds. Oil should be utilised for the benefit of the country and government should have a bigger say in oil revenue control, not outsiders.
7:45pm: Mahama: Ghanaians should be educated on how to utilize the oil and not to wait for the oil companies to just exploit. Oil industry and contracts should be transparent.
7:48pm Akufo-Addo: Oil fund would be set up under the supervision of parliament and a huge chunk of that fund would go to the development of the Western Region. It's by virtue of good luck that Ghana have struck oil.
7:50pm: Question: Economic growth requires foreign investment, how would you manage it without the stifling of the local investors?
7:56pm: Mahama: Credit facility: That would be done through the local bank to prevent hijack by party functionaries, criticises the government's mode of distributing loans to farmers.
8:01 What will you do to make private sector move faster?
8:02: Nana Addo: Grow the private sector providing technical assistance and capital to small scale enterprises, ensuring that 50% of government supply comes from the local industries. Even USA welcomes FDI, FDIs bring knowledge. Must strengthen local companies by passing laws that will ensure that everything is procured from Ghanaian producers
8:06pm: Dr Nduom: The private sector as the engine alone would not move unless there is a tyre with a competent driver in it. Direct local investment and not foreign direct investment is what would be pursued. Believes the president must go round and find out what the needs of businesses are and provide for those needs.
8:10pm Prof Mills: Local entrepreneurs need to be supported, Private sector contributing near-zero per cent to GDP and have not grown over the years.
8:12pm: What will you do to make Ghanaians benefit from regional market?
8:12pm: Edward Mahama: First thing to do is to remove barriers to enhance regional trade, We have to be self reliant and believe in ourselves, will treat all ministers who fall sick in Ghana and not outside
8:15pm: Follow-up question: How will you go round the barriers if they are not removed Ans; Will put security measures in place.8:15
8:18pm: Nana Addo: There have to be 2 or 3 countries that must drive process of integration and Ghana must be one. Will try and impress upon Ivory Coast, Nigeria and Benin to see the need for integration. A large market within the West African sub region which Ghana can take advantage of production but there are constraints some of which are being addressed.
8:22pm: Atta Mills will earn the trust of the leaders in order for them to cooperate with him if elected. Mills would talk to all leaders in the sub region to forge a common consensus. There is mistrust between leaders in the West African sub-region and major problem with Regional Integration because leaders say one thing and do another.
Debate rises for a five-minute break and resumes at 830pm.
8:35 Nana addresses question on food security:
Most important lesson is the overwhelming necessity to increase food production, Post production losses must be addressed, Large areas that are supposed to ensure arable lands are dormant, Will use north as food basket. Northern initiative must help Ghana become self reliance on food.
8:37pm: Nduom believes subsidies will help farmers and fishermen to produce sufficient food to bring about food security.
8:40pm: Government must produce enough by supporting farmers. There has to be preservation of food to promote self sufficiency
8:43pm: Dr. Mahama: Mahama on food security: agric extension officers need to help the illiterate farmers on good farming practices and methods to ensure bumper harvest. Problem of marketing of food produce, irrigation is also another problem, all dams should be desilted for harvesting rain water. Farmers should be provided with guaranteed markets. Will rejuvenate operation feed yourself.
Education:
8:46pm: Prof. Mills: NDC would make education accessible with infrastructure, uniforms and motivation to teachers and all, quality education should be tailored to meet needs if job market. Higher education need not be only university, industry trains, polytechnics etc should be resourced.
8:50pm: Dr. Nduom: Would restrict the use of the GETFund if given the nod
8:52pm: Nana Addo: NPP has doubled amount of money spent on education resulting in 30 per cent increase in the number of people who go to university. Sub question: How will you fund your free secondary education? It is possible because the cost has been assessed. Want to ensure access to all
8:54pm: Prof Mills addresses social security: Ghana must rationalise pension schemes, salaries too meagre and pensions horrible. Better pay should cushion the retired. Mode of payment must be regularised
8:58pm: Dr Mahama says good pension requires good paying jobs, productivity must be increased so people are better paid.
Pensioners coming to Accra to receive their money is not good. People pretend to work so government also pretend to pay.
9:02pm: Nana Addo: Parliament has passed law today to address problems colleagues are talking about and will rationalise pension scheme.
9:05pm: Nduom will raise basic pay for people and let them pay their own bills. This will help pensioners because the base to be used to calculate their pension will be high. There should be pension systems for farmers, fishermen, traders.
9:08pm: Dr. Mahama on health: reverse the trend of maternal mortality. Health system needs overhauling, because poor health care delivery is the cause of maternal mortality, especially inadequate facilities and skilled personnel.
9:12pm: Nana Addo: Happy with institution of National Health Insurance Scheme and would build on it if given the nod. There is also the institution of free maternal care to help the Ghanaian women.
9:14pm: Dr. Nduom: It is not easy to access the NHIS. Access and training would be provided.
9:18pm: Prof. Mills: Poor road system and poor hospital facilities coupled with lack of hospital attendants. Cultural practice of people delivering at home should be discouraged and people educated to seek appropriate health care. NHIS alone can't solve the existing problem.
9:22pm: Nana Addo: Free maternal health care part of measures to strengthen women. Must improve access of women to business. Micro finance has expanded access to credit by women.
9:28pm: Nduom on women empowerment: 50 % of regional minister will be women. Women must have preferential treatment in awarding contracts.
9:32pm: Prof. Mills: Social practices that discriminate against women will be dealt with. 40% of women will be ministers and other political appointments. Will give women micro credit. Agree with proponents of women's manifesto.
9:35pm: Dr. Mahama: Proper education for women is what a Mahama presidency would advocate if given the nod.
9:38pm: Dr. Nduom on Energy for domestic use: In four years Ghana would become a net exporter of power
9:40pm: Mills on Energy: Energy crisis could have been avoided; NDC initiated alternative measures like the Aboadze plant, Osagyfo barge and West African Gas Pipeline to boost Ghana's energy supply those initiatives were not properly taken into consideration by the succeeding government. Create other avenues like wind energy, traffic lights powered by solar. Believes leadership lapses have caused energy crisis.
9:45pm: All four candidates agree Nuclear Energy is a viable alternative to powering Ghana.
After five minutes break, debate is back on final leg of addresses.
9:52pm: Akufo-Addo speaks on tackling crime, especially violent crime.
Mechanism for resolving conflicts ought to be supported. He would appropriate more public funds to organisations championing the cause of law and security. Law enforcement agencies need to be beefed up, especially in the area of human resources. Improve remuneration of security agencies.
9:55pm: Nduom on security; Systems must identify properties and people properly so that criminals can be easily tracked Attorney-General's office must be separated from Ministry of Justice;
Leaders must not sit in Accra when there are disturbances
9:58pm: Prof Mills on security; Nation must fight drugs; Sometimes one feels there is complicity because the fight against drugs is not tough enough; Conflicts are caused by injustice, Ghana used to be safer but now we can't live in safety. Arbiters must not take sides, marginalizing and failure of the law enforcing agencies must be reversed and political victimization should be discouraged. Failure to punish law breakers creates room for people to flout the law with impunity.
Closing Remarks
10:02pm: Dr. Nduom; Ghana needs new leadership, transformational leadership. After years we still have malaria, cholera, bad roads so there is the need for new leadership.
10:05pm Prof Mills; Wants an opportunity to serve; Country is moving in wrong direction; NDC pays attention to the marginalised; Ghana needs a humble person to lead; will not be president for only NDC but all Ghanaians; We need to see ourselves as one people; Merely changing the label on the bottle does not change the content; No one should do anything to disrupt the elections because tainted power is not good.
10:08pm: Dr Mahama; Ghana is at the crossroads, one leading to violence and destruction, the other leading to progress and prosperity. He is ready to follow the path of the latter to lead Ghanaians as a sincere leader and not a leader that will say "do as I say and not what I do". Will offer real change and real progress, aged will not be marginalised; Youth unemployment unacceptable; Believes in Ghana; Ghanaians have a choice to go for a better future.
10:11pm: Nana's Addo: Nation has made substantial progress in economy; Came into politics to serve people; For 30 years has worked to ensure that rule of law works; Wants to serve Ghana honestly.
10:12pm: Debate closes.