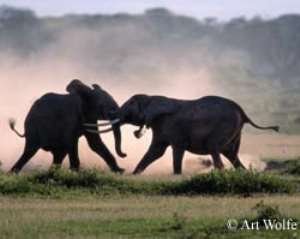 Elephants nearly disrupted the just ended National Integrated Maternal and Child Health Programme in some part of
Assin South District.
Health workers and volunteers who conducted the exercise at Aworoso and other communities close to the Kakum National Park were threatened by the elephants during their rounds.
Mr. Mends Kofi Quaning, District Director of Health Service told the Ghana News Agency at Assin Kyekyewere that the workers and the volunteers however mustered courage to see the exercise through.
He said the District chalked a success in the exercise which involved application of Vitamin A supplement for babies of six-59 months and postpartum mothers, vaccination against polio, de-worming of children and distribution of treated bed nets to babies and pregnant women.
Mr. Quaning said 2740 babies of six to 11 months representing 117 per cent were provided with Vitamin A supplement, 1738 babies of 12-59 months, representing 101 per cent of the district target received Vitamin A Supplement 11,260 children representing 89.2 per cent were de-wormed.
Mr. Quaning said 564 postpartum mothers were administered with Vitamin A Supplement representing 26 per cent of the projected figure.
The District Health Director said apart from the encounter with the elephants, bad roads were another challenge the workers and volunteers had to grapple with.
He commended the District Assembly, the Information Department, District Agriculture Directorate, Electoral Commission, World Vision Ghana and the Business Advisory Centre for their support in the form of provision of vehicles and de-wormer.